SHEMEKIA COPELAND Deluxe Edition Alligator ALCD 5614 (2011)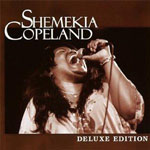 It's amazing to realise that Shemekia Copeland - daughter of the late Johnny Copeland - is already into her 13th year as a recording artist. 'Deluxe Edition' represents the best of her first four albums for Alligator records.
Shemekia is a passionate soulful blues singer with a powerful range and enough life experience to imbue her lyrics with real feeling. And while she's not quite the 'Queen of the Blues' yet, this compilation suggests she's well on the way.
Shemekia brings her powerful voice to rest on a mix of blues, soul, funk and R&B and even throws in a Christmas shuffle. She's also growing as a song writer with subject matter that is as close to the heart as it is distanced from cliché.
But you suspect it's the constant early career search for a definitive musical home that makes this compilation album a mix of the restless and the inspired.
Her debut 1988 album 'Turn Up The Heat' featured the show stopping cover of Johnny Copeland's 'Ghetto Child' which kick starting her career. It's an outstanding performance on a debut recording, showing she's capable of a mature vocal performance well beyond her years. The same confidence comes through on the following cool groove 'When A Woman's Had Enough', which features lovely guitar fills from Arthur Neilson and slapped bass from David Barard.
Her co-writes include the love song 'Don't Whisper' on which she actually over sings a little. She also teams up with Jon Tiven on the humour lyrics of 'Sholanda's', a song about a beauty saloon, which also features some fine slide from Neilson.
'Deluxe Edition' is a well thought out collection showcasing Shemekia on a wide range of styles from the rocking '2am' with Sugar Blue on harp and the stop-time rocker 'Wild Wild Woman', which contrasts markedly with the down home feel of 'Beat Up Guitar', on which she reins in her power to phrase eloquently as Jimmy Vivino adds some evocative dobro.
'Love Scene' is a co-written ballad with manager John Hahn and Jon Tivern, and gives her room for some expansive phrasing on a song with an MOR flavour while she makes the most of the sharply arranged, effective 'call and response' hook and poignant lyrics of 'Who Stole My Radio'. Outside of 'Ghetto' her best efforts comes on the big band horn led 'All About You', on which her voice towers above a perfect arrangement, and the sultry blues of 'Salt In My Wounds' on which she draws you in. If the ultimate test for a soulful blues singer is how they handle a slow blues, then on 'Salt' she brushes aside any reservations and tears into the lyrics, elongates a few vowels and extends her full range as guitarist Jimmy Vivino and pianist/organ player and Brian Mitchell engage in the perfect back up musical conversation.
With Dr John and Steve Cropper producing her last two albums, it does suggest she's an artist still in search of the perfect context for her stunning voice. The album sleeve presents us with a photo collage of Shemekia with blues and soul 'royalty' including Ruth Brown, Dobie Gray, Koko Taylor, Hubert Sumlin, her late dad and hubbie Orlando, suggesting she's already gown into her part in the blues world.
But the truth probably is that she's still on a learning curve and 'Deluxe Edition' is a coherent compilation of the best of her early years in a career rich in promise.
****
Review by Pete Feenstra
---
| | |
| --- | --- |
| | Print this page in printer-friendly format |
| | |