ROBIN TROWER Reissues Repertoire (2011)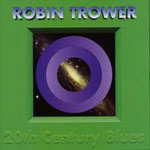 There's a lot to be said for time and place, let alone context. And perhaps back in 1994 Robin Trower had already caught wind of a new blues revival in the UK to resurrect his solo career on the bluesier side of a hitherto power rock-blues style.
But if '20th Century Blues' was a successful comeback, then 2005's 'Another Days Blues' was slightly more disappointing, with a different line-up struggling to make its mark as the undoubted elements of taste, poise and feel are dissipated by a lack of passion and spark. By the time of 2009's 'What Lies Beneath' the cat is out the bag and Trower's gradual step into the direction of laid back introspection is channelled into exploratory guitar tones, earnest lyrics and shared vocals with long time accomplice Davy Pattison.
20th Century Blues (Repertoire REP 5245) marked an impressive shift back into the rock/blues market for Robin Trower, after 4 years in a short lived return to the ranks of Procol Harum and an unlikely 3 album dalliance with Bryan Ferry.
The album features the excellent line-up of bass/keyboard player and vocalist Livingstone Brown (who later produced 'What Lies Beneath') and the solid Clive Mayuyu on drums. Recorded 20 years after the best selling 'Bridge of Sighs' album, Trower gets off to an incendiary start impressing on the wah wah inflected, funky groove of 'Prisoner of Love' and the beautifully voiced tone colours of 'Precious Gift'.
Some of the Hendrix feel is carried over to the atmospheric blues instrumental 'Secret Place' which turns out to be a template for his more recent work. He also cuts loose and burns on the rocker 'Chase the Bone' evoking his own mid 70's work in a manner somewhat lacking on his later albums. ****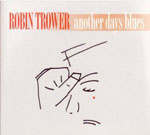 You could be forgiven for thinking that Another Days Blues (Repertoire REP 5244) lives up to its rather mundane title. With the return of the vivacious drummer Reg Isadore the emphasis is surprisingly on slow burning grooves and expressive licks that vocalist Davy Pattison tries hard to inject with some vim and vigour. It's an album that works hard to shape Robin's new languid style, but lacks an experienced producer to focus attention on the flow and dynamics of the set. Aside from an overall pedestrian feel, synth injected grooves such as 'Someday Blues' don't really go anywhere and though Robin plays some tasteful licks on '21st Century Blues', it's a song that fails to engage us emotionally or viscerally.
Far better is the wah wah inflected 'Go My Way', while the after hours feel of 'Exterminating Blues' (there's a tougher version on '20st Century Blues') would surely have been better near the end of the album. As it is, the meditative 'This Blue Love' is reminiscent of Trower's playing on Procol Harum's 'Song For A Dreamer' from 'Broken Barricades' and offers an insight into what to expect on the third album of the trilogy. ***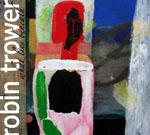 If you like Robin's stylistic shift from blues rocker to introspective tone meister, then you'll love What Lies Beneath. (Repertoire REP5243). With his detailed diary notes covering the 7 months of its making, Robin's attention to detail is reflected in his approach to ambience, mood, tone colour and feel.
He explores long melodic guitar lines on 'As You Watch Each City Fall (part one)' and builds a towering solo on the back of smouldering instrumental 'Time and Emotion'. And if his vocals are half spoken in the manner of Mark Knopfler, he lets his guitar do the talking for the most part.
Lovingly produced by Livingstone Brown 'What Lies Beneath' is a mature work by an artist who is at one with himself. The instrumental 'As You Watch Each City Fall part 2' is simply magisterial, being a mix of whammy bar, echo reverb, harmonics and tinkling percussion.
The album coherently builds layer by layer and all but resolves itself on the late night, Roy Buchanan style 'Buffalo Blues'. The closing 'Find a Place' finds Robin in his element, exploring deep tones over a subtle string arrangement on the perfect ending to a great guitar album with a difference. *****
Review by Pete Feenstra
---
| | |
| --- | --- |
| | Print this page in printer-friendly format |
| | |