Just witnessed your best live gig?.. send us a review!
RINGO STARR & HIS ALL-STARR BAND
Hampton Court Palace, 17 June 2011
Photos by Noel Buckley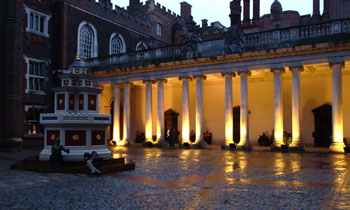 A suitably grand and legendary setting to witness a musical legend in Ringo Starr. Shame the weather didn't hold out, although despite the rain people were still determined to enjoy their picnics albeit under trees. As if by magic, though, the rain stopped as soon as Ringo and his band took to the stage at 9pm.
His current All Starr band is as impressive as previous incarnations with guitarists Wally Palmar (The Romantics) and Rick Derringer, Edgar Winter on keyboards/saxophone, Gary Wright (Spooky Tooth) on keyboards, Richard Page (Mr Mister) on bass and drummer Gregg Bissonette (Dave Lee Roth/ELO). All took their turn on lead vocals, bar Gregg Bissonette who kept the beat going throughout the show.

The setlist is a mix of Ringo's solo output and songs with 'that other band' as he kept calling the Beatles plus two songs each from the band members.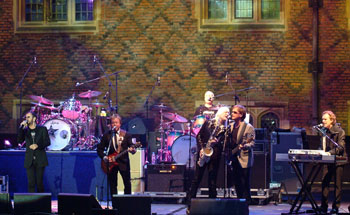 Zoom (Click large image to cancel)
To be fair Ringo doesn't have the greatest of voices but his enthusiasm and passion, especially when he sang the autobiographical 'The Other Side Of Liverpool' carries the songs along nicely. Highlights from the Ringo fronted songs included 'Yellow Submarine' (the song that really got the audience on its feet), 'The Other Side Of Liverpool' and the Carl Perkins tune by way of the Beatles, 'Honey Don't'.
Ringo seemed more at ease behind his drums as he lacked the natural ease displayed by Edgar Winter and Rick Derringer when connecting with the crowd. I did like his comment that he was the greatest and the crowd were the best (later he said Richard Page was great but he was still the greatest!). He has that sharp Scouse sense of humour that works so well.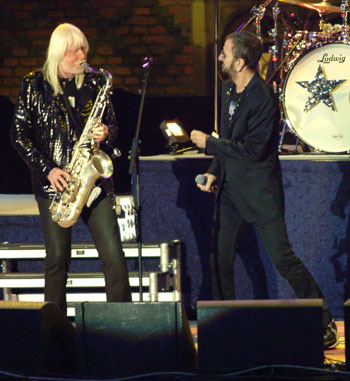 Turning to his band, who are all consummate musicians in their own right and have sold a fair few albums each through the years, it was Edgar Winter who stole the show for me.
He was the one to get the crowd going early on with his hit 'Free Ride' and later on with a prog/jazz rock overload on 'Frankenstein'. On this song he started on a portable keyboard, switched to sax, then a small drum kit and back to keyboards. A real showman and great fun to watch.
Rick Derringer again had bags of enthusiasm and 'Hang On Sloopy' went down well early on in the set. His other song, 'Rock N Roll Hoochie Koo' had a lady near to us covering her ears, as he did a fast guitar solo including a snippet of Van Halen's 'Eruption'. Lady, if its too loud you're too old :)

Wally Palmer, of the Romantics, was not someone whose music I was overly familiar with and he did fall into the Spinal Tap trap of 'Hello London, England' before quickly chaning it to 'Hello, Hampton Court'. 'Talking In Your Sleep' was an enjoyable song but not so taken by 'What I Like About You'.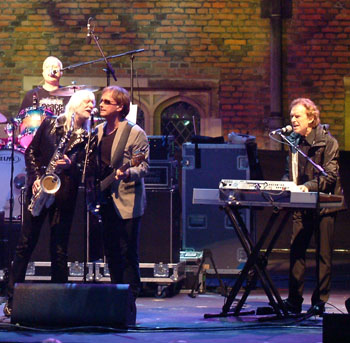 Gary Wright was quietly playing his keyboards and singing backing vocals for most of the set, almost to the point you forgot he was there but he came alive when he did his two songs.
'Dreamweaver' was simply breathtaking, from the deftly played keys through his vocal, still spot on. 'Love Is Alive' was good but was never going to match 'Dreamweaver'.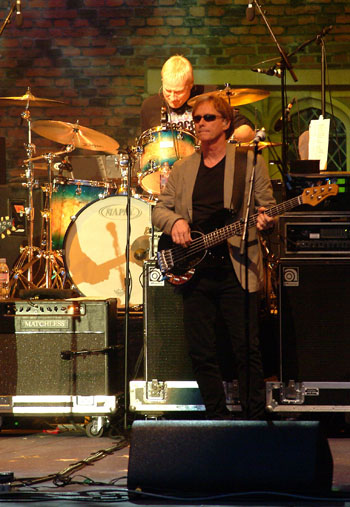 Finally the one singer I was really keen to see, Richard Page of Mr Mister fame. To hear that band's biggest two biggest hits - 'Kyrie' and 'Broken Wings' - played live made this melodic rock fan very happy indeed. The crowd reaction was amongst the best for the non-Ringo songs as well.

The set closed as you'd expect - 'With A Little Help From My Friends'. I was hoping Joe Cocker may have quickly popped on stage as his version is for me the definitive one. Still it was a rousing end to a great night and Ringo and the band signed off with John Lennon's 'Give Peace A Chance'.
As a way to keep these great songs alive on stage Ringo Starr and his All-Starr's do this well. The set was just under two hours long but it flew by. I would highly recommend seeing this current version of his band, especially for fans of Mr Mister who are unlikely to hear these songs performed live very often.

Setlist

It Don't Come Easy/ Honey Don't/ Choose Love/ Hang On Sloopy (Rick Derringer) / Free Ride (Edgar Winter)/ Talking In Your Sleep (Wally Palmar)/ I Wanna Be Your Man/ Dream Weaver (Gary Wright)/ Kyrie (Richard Page)/ The Other Side of Liverpool/ Yellow Submarine/ Frankenstein (Edgar Winter)/ Peace Dream/ Back Off Boogaloo/ What I Like About You (Wally Palmar)/ Rock N Roll Hoochie Koo (Rick Derringer)/ Boys/ Love Is Alive (Gary Wright)/ Broken Wings (Richard Page)/ Photograph/
Act Naturally/ With A Little Help From My Friends into Give Peace a Chance

Review by Jason Ritchie
Photos by Noel Buckley
---