THE RIKK BEATTY BAND No Vocals Allowed
Song Haus 55053-2 (2011)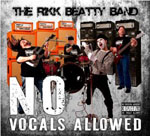 The Rikk Beatty Band's 'No Vocals Allowed' is a superbly played instrumental rock album. The 13 tracks are bursting with vibrant power, awesome technique and powerhouse rocking, but it's also an album counterbalanced by restraint, taste and song craft. There's no mention of a producer on the liner notes but Tristan Sipress deserves credit for the mix and mastering of an album imbued with a pristine sonic quality.
The bristling power trio interplay may offer few surprises to the world of axe shredders, of which Mr Beatty is a fully paid up card carrying member, but there are enough moments of real inspiration, restless creativity and dazzling solos to make this an album worth purchasing.
The Seattle based band are a multi award winning power trio and 'No Vocals Allowed' is their 8th album and one worthy to be considered in the same breath as Satriani, Vai, Timmins, Hammett etc. Rikk may not have the same profile let alone the quirky sense of the outrageous as say Vai or Satch, preferring to meander in and out and stretch a variety of established themes rather than relying on oblique solos.
But the subtle shifts of tone, pace and a deft use of his intuitive technique comprising legato, arpeggios, volume swells and the occasional long sustained note, (his metal version of 'Auld Lang Syne' is the closest he gets to going OTT), is evidence enough of his and the band's combined abilities.
And while the title track 'No Vocals Allowed' is itself a thematic statement of the instrumental nature of the album - Rikk lets his guitar do his talking for him - this is still essentially a band effort with drummer Chris Shealy providing unbounded energy and percussive colour and bassist Tim Hogans slipping from mellifluous support to occasionally playing double lines with Beatty as on 'Jumping Cosmic'.
And Rikk's acute sense of the importance of dynamics, his ear for a strong melody and the way he sometimes disguises his attack makes this album more than just a shredder's paradise. There's a strong rhythmic feel and melodic presence to the opening brace of tracks, of which 'Juice' establishes a theme over a jet powered rhythm track and 'Blue' adds wah wah inflected licks over a pulverising drum track before Rikk soars beautifully on a rock burn out.
The album smoulders like a burning fuse and any semblance of an MOR feel is ripped to shreds by the staccato drum intro and tempo change of 'Odyssey', as Rikk leads the way with a whammy bar mangled solo in power trio format.
Rikk tops and tails the title track with a crescendo of chiming notes, circumnavigating the meaning of the title with conversational guitar theme before effortlessly exploring some beautiful flowing lines. He adds fleeting bursts of dexterous shredding over a sumptuous undulating bass line and powerhouse drums. It's a worthy title track as the band succinctly summarises its abilities in little under three and half minutes before a perfunctory fade out. 'Friends' is another excellent track full of Rikk's shrill notes and a repeated motif as the thunderous rhythm section helps guide the song to its inevitable climax
'No Vocals allowed' is an excellent contemporary guitar led rock album full of strong melodies, and delicious tones. Above all it's an excellent example of what a power trio can achieve with spine tingling musical abilities and an instrumental, strong driven creative ethic that doesn't have any room for cliché
*****
Review by Pete Feenstra
---
| | |
| --- | --- |
| | Print this page in printer-friendly format |
| | |