RHAPSODY OF FIRE From Chaos To Eternity Nuclear Blast (2010)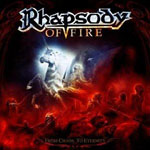 Now with a permanent rhythm guitarist on board, Italian symphonic/melodic operatic power metal band Rhapsody close the Dark Secret saga that began back in 2004.
The choir and Baroque symphonic structures are all there and strong as ever, and while there is some orchestration, the immediate emphasis on this album is the guitars. And, like previous albums in the series, legendary Christopher Lee provides some perfectly atmospheric and powerful narration.
From the opening intro of 'Ad Infinitum', this is heaviest and most in-your-face intricate guitar work that Christopher Lee has ever narrated over. Then the title track, where vocals, backing vocals and guitar combine for some sublime if high speed harmonies.
This is about as metal as symphonic can get while still remaining melodic, and what a joy it is too. 'Tempesta Di Fuoco' mixes fast and slow, shred and ballad, and mid song some classical piano reminiscent of Beethoven or Bach.
The concept is well written, and in closing the story there's a lot of thought gone into the songwriting; if you're going to end the world you may as well do it in style, and that's what the band have done here. Alex Staropoli's keyboards range from intricate to sweeping, the guitar work blistering.
'Ghosts Of Forgotten Worlds' mixes acoustic and electric guitars well, and like many of the songs features pace changes as well as time changes. 'Anima Perduta' adds an operatic edge, Fabio Leone's vocal's perfectly suited.
The bass opening to 'Aeons Of Raging Darkness' is bowel moving, the blistering guitar work fantastic.
Closing number 'Heroes Of The Waterfalls' Kingdom', opening with orchestra and Christopher Lee's narration, runs to 20 minutes and is as epic as things can get. From the acoustic Baroque to the all out, guns blazing, catchy anthemic riffs, vocal harmonies, Gregorian chanting, axe wielding, kitchen sink glory, whether a guitar or a sword you'll be waving it in the air to this. Quite literally an axe wielding epic. Phew!
As moving as it is enjoyable.
Listen to this, just do it, and I dare you not to find something there to blow you away. Don't take my word for it, the music itself throws down the gauntlet.
*****
Review by Joe Geesin
---
| | |
| --- | --- |
| | Print this page in printer-friendly format |
| | Tell a friend about this page |