QUEEN Reissues Island/EMI (2011)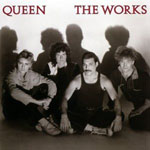 The final five Queen studio albums get a re-issue with a bonus CD on each album. First up is 1984's The Works, an album which saw the band return to form after the poor reception their last album got, 'Hot Space'.
I can still remember sitting next to the radio listening to the Radio 1 top 40 show on a Sunday evening, eager to hear if Queen's then new single 'Radio Ga-Ga' had made the singles chart. It got to the top 5 and I thought there was no chance but it had debuted at number 4! The whole album marked a rebirth for the band as they had found their classic sound again and more importantly reconnected with their fans, plus with the following year's Live Aid went on to gain a whole new set of fans.
There isn't a duff song on the album, from the pomp of 'Keep On Passing The Open Windows' through to the rock-tastic 'Hammer To Fall'. Of course the monster hot 'I Want To Break Free' is on here along with the rock 'n' roll fun of 'Man On The Prowl', complete with a piano solo from the band's live keyboards player Fred Mandel. Bonus wise you have the fun rocker 'I Go Crazy' and 'Thank God It's Christmas', which was never released on a studio album. *****
Another soundtrack tie-in came along in 1986 with A Kind Of Magic, with most of the albums songs featuring on the film 'Highlander'. Unlike Queen's previous foray into film soundtracks with 'Flash Gordon', this time around the album was all songs and no instrumentals.
There are some great heavy songs on here including 'Gimme The Prize' and 'Princes Of The Universe'. However, 'Pain Is So Close To Pleasure' is best avoided! Sadly this song also features in the bonus CD. Another strong Queen album with plenty of hit singles including 'One Vision' and a 'We Are The Champions' update in 'Friends Will Be Friends'. ****½
By The Miracle they had produced an album of two halves. The first half was classic Queen - hard rock in the shape of 'Party', a nice stirring balled in the title track and a chance for Brian May to flex his riffs on 'I Want It All'. But there is the average 'Scandal', another Freddie Mercury inspired Supremes like 'My Baby Does Me' and 'Rain Must Fall'. I am sure some Queen fans must like these songs but they let the album down for me.
The bonus CD adds three B-sides, 'Hang On In There', 'Stealin' and 'Hijack My Heart' plus an early version of 'The Invisible Man'. One of the better bonus CD's for fans that only have the normal vinyl or CD in their collections. This album was also the first album where the band didn't tour to support its release due to Freddie Mercury's ongoing health problems. ***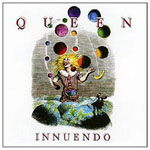 1991's Innuendo was released earlier in the year that Freddie Mercury sadly passed away. There are a lot of reflective lyrics on this album as well, none more so than 'The Show Must Go On' and 'These Are The Days Of Our Lives', which had a very emotive video that this old sentimental fool still can't watch to this day without a tear in my eye!
There are some good hard rock tunes on here including 'Headlong', 'The Hitman' and the epic title track (listen out for Yes/Asia guitarist Steve Howe playing Spanish guitar), which harked back to the band's pomp rock extravaganzas of 'Bohemian Rhapsody' and 'The Prophet's Song'. You can even forgive Freddie for writing a song about his cat - 'Delilah'. Another one of the band's 'must have' albums. *****
1995's Made In Heaven featured a mix of Queen songs finished off by the surviving band members after Freddie Mercury's death plus re-done songs previously released on solo albums from Freddie Mercury, Brian May and Roger Taylor. 'It's A Beautiful Day' is a real pick-me-up song and again there are some very personal songs in 'Let Me Live' (complete with a gospel chorus a la 'Somebody To Love') and 'Mother Love'. The Cross tune 'Heaven For Everyone' gets a reworking on here and Freddie's own solo hit 'I Was Born To Love You' gets a rockier edge with the Queen boys backing him on this version. An album well worth releasing and a fitting end to Queen's studio output. ****½
Of these five re-issues all bar 'The Miracle' are definite 'must haves' and forty years on since they started out Queen prove their music was built to last.
Review by Jason Ritchie
Album review (reissues 1)