PHILIP SAYCE Ruby Electric Provogue (2011)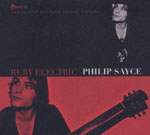 Philip Sayce invites us to share the 'passion, joy, excitement and honesty' of his performances on the half studio, half live cuts of 'Ruby Electric'. Well there's certainly plenty of cranked up solos with volume to the point of distortion and some exciting moments of intense playing, but it's all but swamped by a very busy production which I guess must be part of Dave Cobb's 'signature production'.
As a result 'Ruby Electric' is only a limited success as Philip Sayce's strengths of dazzling guitar playing, awesome tone and occasional lingering melodies are lost in an over bearing production on the studio part of the album. Similarly his frenetic playing and some loose arrangements make the live 'volume 2' section patchy at best.
The opening half dozen studio songs sound like both band and producer are trying to cram too much into the project, a fact also apparent on the Eddie Kramer produced live tracks. 'Ruby Electric' sounds like an amazing guitar player trying to fit his incredible energy levels into14 songs that don't have the room for his immense sonic input.
Look no further than the opening duet 'Let the Love In' with his former employer Melissa Etheridge in which the duo struggle to make themselves heard above Kenny Aronoff's thundering drums. Philip does relax a little more on the melodic ballad 'Daydream Tonight', from his previous 'Innerevolution' CD. It's the best track on the album and sounds a little like Todd Rundgren with real potential radio appeal, while 'Were You There' is a climactic ballad on which Philips delivers his best vocal and a searing guitar solo over an imposing wall of sound. But taken as whole and judged as a follow up to the promising 'Innerevolution', 'Ruby Electric' fails to live up to its sumptuous title.
The live section finds Philip in his element playing high velocity stunt guitar on the Hendrix influenced 'One Foot In The Grave'. He segues that into the aptly titled 'Powerful Thing' on a triumph of bluster over substance. There's a momentary pause when the crowd starts to applaud, mistakenly thinking the song has ended, giving you inkling into the unfettered energy levels that sometimes lose their focus.
The first part of 'Slipway' is simply dreadful, drowning in a mélange of heavy shredding and thrashed drums before Philip belatedly tries to rescue the song, coming up for air on a quieter bluesy passage with more trademark guitar mangling.
There's also welcome light relief on another Hendrix influenced song 'Alchemy' on which he teases out his most delicate spine tingling notes bathed in gentle echo and reverb, showing just what he's capable of when he allows a little space and time into his repertoire. And in that respect 'Take You Away' also impresses, being a more concise 'in the pocket' rocker with some outrageous soloing.
The album closes with a grunged up version of Neil Young's 'Cinnamon Girl', which segues into the Beatles 'I Want You/She So Heavy'. And in truth, 'Ruby Electric' is a heavy album. If you love Sayce's high volume and heavy guitar mangling antics there's plenty here to satisfy your palate. For the rest of us outside of that intrinsic connection, 'Ruby Electric' has the feel of a filler album high with plenty of guitar breaks but short on songs and restraint.
***
Review by Pete Feenstra
---
| | |
| --- | --- |
| | Print this page in printer-friendly format |
| | |