Just witnessed your best live gig?.. send us a review!
PETER FRAMPTON, Hammersmith Apollo, London
13 November 2011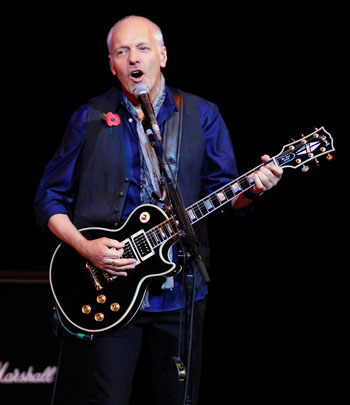 Peter Frampton has already toured the UK back in March promoting last year's 'Thank You Mr Churchill ' and he promised back then he would be back in the autumn to play the whole of 'Frampton Comes Alive', as that legendary live album marked its 35th anniversary this year.
It was a packed out Apollo that welcomed Peter Frampton (looking very fit & healthy and ready for action) and his backing band of Rob Arthur (keyboards/guitar/backing vocals), Adam Lester (guitar) and Dan Wojciechowski (drums) plus on bass Stanley Sheldon who played on the original 'Frampton Comes Alive' album.
Peter Frampton is one of those artists that may not have massive selling albums anymore but maintains a large and loyal following who certainly came out to see him tonight.

The first half of the evening was given over to playing the whole of the 'Frampton Comes Alive' album including some sings that never made the original vinyl release but were on the subsequent CD re-issue.
Throughout the show I have to say how impressed I was by Peter Frampton's guitar playing and use of guitar effects to create a wealth of sounds. As one member of the crowd quite rightly shouted out 'you 're a guitar genius '. As you'd expect the biggest cheers of the night came for 'Show Me The Way ', a song that marked the first appearance of the legendary Talkbox.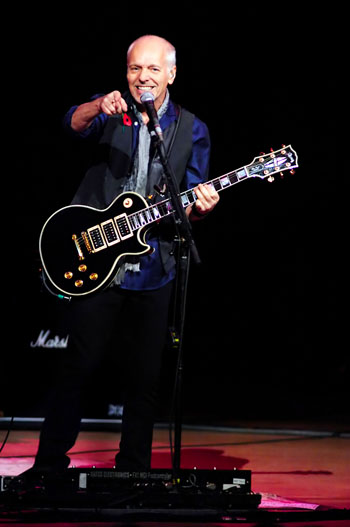 The set progressed nicely with the reflective 'Penny For Your Thoughts' and the album 's other big song 'Baby I Love Your Way'.
The first half closed on a rock high with the Humble Pie classic 'Shine One', a funky cover of the Rolling Stones 'Jumpin' Jack Flash ' and a fifteen minute epic run through 'Do You Feel '. The latter really lets the band spread their musical wings. It maybe thirty five years ago the album was first released but Peter Frampton has lost none of his skilful playing or vocal prowess.

The second half commenced with 'Asleep At The Wheel' off his latest album 'Thank You Mr Churchill '. Then came three instrumentals of his Grammy award winning 'Fingerprints' album and a good call as it gave Peter Frampton a chance to rest his vocals.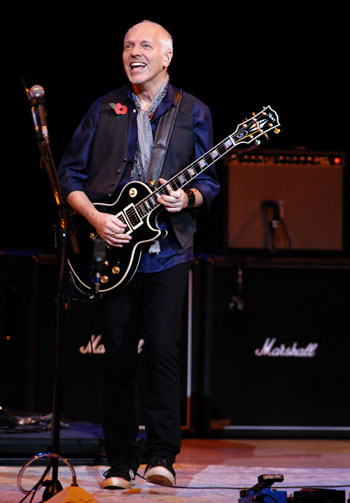 The big screen behind the band came into its own on these songs with a series of video and photographs, sometimes very psychedelic and reminiscent of Pink Floyd, as was the playing on 'Float '.
Another song of his last album was the autobiographical 'Vaudeville Nanna and the Banjolele ', complete with said banjoele played by Peter Frampton, along with a snippet of 'My Old Man 's A Dustman '!
His son, Julian joined him to sing on 'Road To The Sun ', a real rocker to shake away the cobwebs and this was followed by an instrumental cover of Soundgarden's 'Black Hole Sun '. Not a song I 'd expected to hear but a worthy cover with the Talkbox back at the end of the song. Some good old blues rock boogie followed with Humble Pie's 'Four Day Creep'.
The encore was the George Harrison penned 'Whilst My Guitar Gently Weeps ', a fitting end to a truly magical night of music and with a set time of nearly three hours you certainly get VFM.

There are a couple of UK dates plus some mainland Europe shows to go and I would urge you to go and see a performer at the peak of his musical powers, backed by a very competent and talented band.


Review by Jason Ritchie
Photos by Steve Goudie
---