Just witnessed your best live gig?.. send us a review!
PAUL RODGERS/Down N Outz
Manchester Apollo, 21 April 2011
Photos by Steve Goudie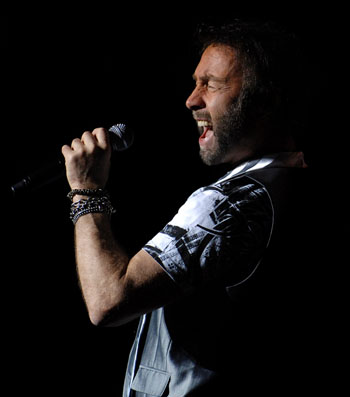 I never really 'got' Mott The Hoople or for that matter their Hunter-less offspring Mott and British Lions. And from all accounts, the seventies glammed up rockers could be quite ramshackle live. All are celebrated by Joe Elliott's revivalists who feature Quireboys Paul Guerin, Guy Griffin, Keith Weir and Phil Martini.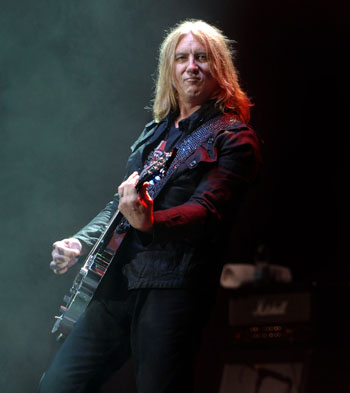 What you get with Down N Outz is a modern-day Mott sharpened by modern technology and production values. Tonight Ian Hunter's 'Overnight Angels' and 'England Rocks' (both songs giving Elliott's outfit some success in the States) were highlights.
It would be easy for the wizened rocker to pass by a Paul Rodgers gig on the basis that (a) he'll be touring again sometime and perhaps with a new album and (b) he is never going to pull out the real obscurities from his illustrious back catalogue.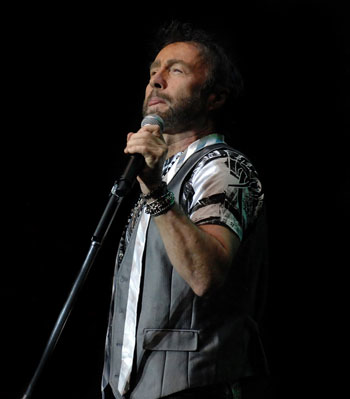 It's actually some four years and a bit since he toured in his own right (although more recently he's been treading the boards with Bad Company and Queen). But perhaps understandably tonight's was also a safe set and Free fetishists in particular would have only heard the very predictable.
Arguably, Rodgers did the right thing and played to his greatest strengths and - in truth - to the lowest common denominator. The healthily mixed gender - and capacity -crowd of a certain age may well have baulked at obscurity.
But this was no time to celebrate a rather interesting post Bad Co career - the classic rock songbook-to-die-for effectively ended tonight in c.1979. Only 'Take Love', a new song with Bad Company heritage, broke the theme of tonight's tastings.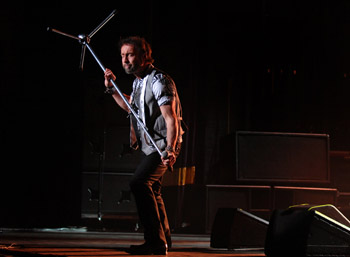 Zoom (Click large image to cancel)
Rodgers of course crammed an awful lot into his first decade of stardom, punctuated by his greatest chart success with 'All Right Now' (a single in 1970 after Free had already released two albums) and then given a new lease of life with the phenomenally successful Bad Company.
'All Right Now' was an inevitable highlight tonight (together with 'The Hunter' for the encore) but we also got superb renditions of 'Wishing Well', 'Mr Big' and 'Be My Friend' together with 'Fire And Water' and 'The Stealer'.
When you added in the key Bad Company hits 'Feel Like Making Love', 'Can't Get Enough Of Your Love' and 'Rock N Roll Fantasy' you had an immediate nostalgia fix with songs that have never sounded so good. Amazing that most are nearly 40 years old!!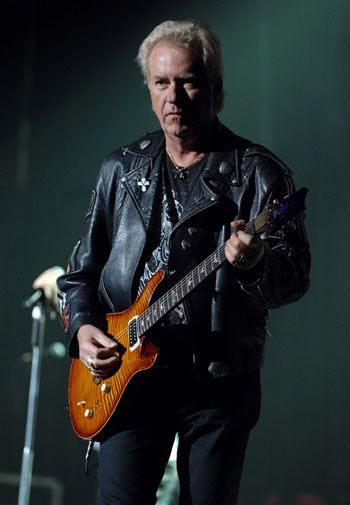 Forget what you may have heard elsewhere, Rodgers is the 'voice of rock' and that voice is in tremendous shape, arguably better than it was in the heyday. Ably abetted here by Todd Ronning (bass), the redoubtable Jason Bonham on drums, and Howard Leese one time Heart guitarist who tastefully and authentically interpreted these classics whilst giving them a welcome helping of modern punch (especially Bonham's robust drumming throughout).
A slick show never quite degenerating into the cabaret feared by all wizened rockers and all held together by one of the best frontmen in rock.
Hopefully now Paul will get his next band album together and perhaps next time he may be a bit more adventurous in the set-list. The Firm, The Law, the solo albums and even his Queen?
But these are the gripes of a wizened rocker, and all in all this was a tremendous show.

Review by David Randall
Photos by Steve Goudie
Listen in to our Paul Rodgers Special on Sunday 24 April, 14:00 GMT+1 when David Randall chats to Paul Rodgers about his career
---