NIGHTWISH Imaginaerum Nuclear Blast (2011)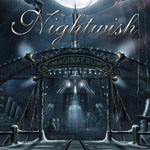 This new album is the Finnish Symphonic Power Metal band's seventh studio outing (there's been the odd EP and live set along the way), and the second to feature new vocalist Anette Olzon.
And although not strictly speaking a concept album, each of the tracks tells its own story, there is a connecting theme and the idea of an accompanying film for each track has led to a full drama feature film, based on the soundtrack.
If that confuses you, just enjoy the music, for this is a damn fine album that is symphonic, operatic and melodic. It is, however, a little gothic in places, and there's a feel of a Tim Burton film throughout. And yes, there's plenty of orchestration throughout too.
Opener 'Taikatalvi' opens in gentle style with orchestration, and builds up to 'Storytime', a smooth polished heavy number, very symphonic, and some Abba-esque vocal harmonies that have an operatic edge.
Don't let the Abba reference put you off, this is something that keyboard player/songwriter Tuomas Holopainen appreciates and put in deliberately - it makes you realise how good some Abba harmonies / melodies were.
All this sound a bit light - it's not. All this is within the full on symphonic power metal structure, that features crunchy riffs, solos, and pounding drums.
Third track 'Ghost River' is the first of several to see bassist Marco also provide vocals; on some tracks they harmonise, on others there's an intertwined duet, and elsewhere distinct female / male passages.
And Anette's vocals are strong, melodic if anything slightly less forced operatically, one of many features to make this a very accessible album. The aforementioned third track also features a Magnum like pomp, with the Marco's vocals giving a darker edge.
'I Want My Tears Back' is punchy and catchy, and has a Celtic feel, a mix of Gary Moore and Big Country with a lot more beef and kick, and grind too. Contrasting, 'Scaretale' starts off in a playful manner before building symphonically to some heavy metal riffs reminiscent of late 80s Anthrax and Metallica.
Then 'Arabesque' is the most obviously filmscore, with tribal drumming and some nicely Celtic / monastic chanted vocals.
'Turn Loose The Mermaids' is an acoustic edged number, then 'Rest Calm' is a chunkier heavy number with another touch of Metallica. More dramatic is 'Last Ride Of The Day', a Damien Omen feel to the intro.
The big number on the album, with four parts and running to over 13 minutes, is 'Song Of Myself', with some grandiose moments and quieter passages too. There is a lengthy almost spoken part that is sad, insightful and thought provoking.
The moods and musical styles swing throughout the 13 tracks, with a core sound of Burton-esque Symphonic Power Metal, with progressive and melodic touches.
Vocalist Anette really fits in and sounds at home. The band have produced an almost filmscore set and, without being commercial it is probably the most accessible so far.
Really very enjoyable.
****½
Review and interview by Joe Geesin
---
| | |
| --- | --- |
| | Print this page in printer-friendly format |
| | Tell a friend about this page |