Just witnessed your best live gig?.. send us a review!
NIGHT RANGER/Airrace, Islington Academy, London
23 June 2011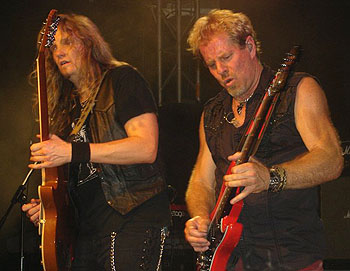 At last a chance to see one of my 'must see in my lifetime' list of US melodic rock bands (ticked off Styx, Journey, Foreigner, Kansas and REO Speedwagon to date with only Boston and Survivor to go!).
Night Ranger were last over in the UK back in 1985 supporting Foreigner. In fact like Foreigner and Styx, Night Ranger seemed to have rediscovered their mojo and are back to their best.

A late entry into the venue, caused by Night Ranger been delayed for several hours by UK immigration, meant Airrace had to cut their set short which is a damn shame as they have been absent since the 80's as well.
Back in the 80's had a storming debut album in 'Shaft Of Light' but success never came their way and the last time I saw vocalist Keith Murrell he was singing backing vocals for Cliff Richard at Knebworth in 1990.
They have a new album, 'Back To The Start' out on Frontiers next month and the songs they played tonight off the album sound very promising indeed, definitely with a heavier touch than of old.
Joining Murrell are original members guitarist Laurie Mansworth and bass player Jim Reid, with I think T'Pau's Dean Howard on guitar.
Of the classic 'Shaft Of Light' album we got 'Promise To Call' and 'First Over The Line'. Great choice of support band and hopefully the start of more gigs and music from this vastly underrated band.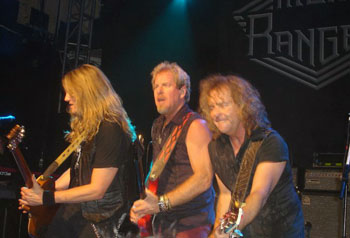 Seeing as how Night Ranger only arrived at the venue at seven they took to the stage by around 9.15pm and played for just under two hours. Kicking off with 'Rock 'N' Roll Tonite' from their new album 'Somewhere In California' was a good choice as it is a no nonsense rock anthem and it was quickly followed by 'Touch Of Madness'.

To say the packed crowd was enthusiastic would be an understatement, as the majority like me will have waited years to see them and they didn't disappoint.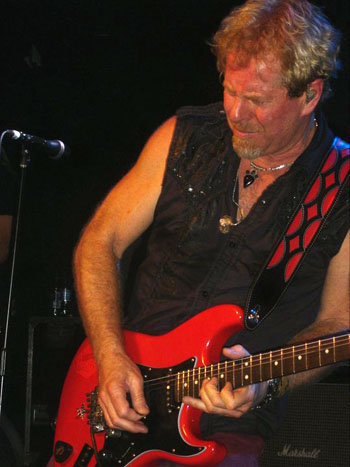 The band gel so well together even relatively new boys in guitarist Joel Hoekstra (who looks like a man mountain) and keyboards player Eric Levy (looking like a younger version of original keys man Alan 'Fitz' Gerald).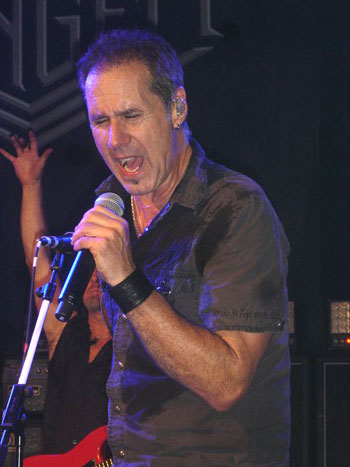 If there's one thing the US rock bands do well it is showmanship and it comes so naturally to them. Be it Brad Gillis and Joel Hoekstra trading guitar solos or Jack Blades with his grinning and bizarre hand shapes from the Bob Catley school of strange onstage hand shapes.

Not a duff song in the whole set and they even played 'The Secret Of My Success' from the Michael J. Fox film of the same name.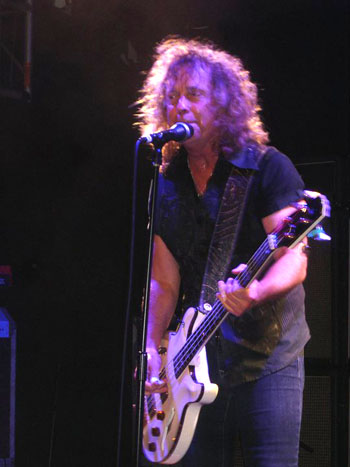 Great to hear 'Sentimental Street' which led on from Eric Levy's keyboard solo. This allowed drummer Kelly Keagy a chance to take to the stage, although he was back behind his kit after the song's intro.
Damn Yankees 'Coming Of Age' got a massive reception from the crowd and it would a dream line-up to bring that band back, perhaps to tour with Night Ranger? Mind you it would be a long old night for Jack Blades being in two bands every night!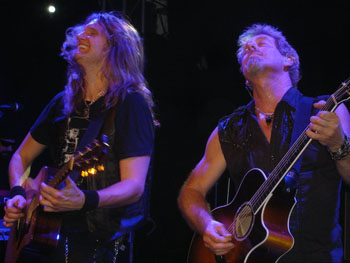 For quieter moments the Japanese bonus track off the new album, 'L.A. No Name' was given an airing featuring Brad Gillis and Joel Hoekstra on acoustic guitars, although both played them like electric guitars such was the speed of their picking. This led nicely into 'Goodbye', just to hear the full band outro on this song made my night.

Encores were another new song, 'No Time To Lose Ya' which fitted in perfectly with the sound of their older songs.
Next up was their US smash hit 'Sister Christian' (which I first heard on a Gary Davies Radio 1 show one Saturday night and have been hooked on the band ever since) and the classic '(You Can Still) Rock In America'.
What a song to end a show on and I really hope they come back soon. Night Ranger, like Styx, know how to have fun live and Journey should perhaps take note and loosen up a bit. One of the best gigs I have seen in ages and the wait was well worth it.

Setlist:
Rock N Roll Tonite/ Touch of Madness/ Sing Me Away/ Growin' Up In California/ The Secret of My Success/ Keyboard solo/Sentimental Street/ Eddie's Comin' Out Tonight/ L.A. No Name (instrumental)/ Goodbye/ Lay It On Me/ Coming of Age/ Four in the Morning/ When You Close Your Eyes/ Don't Tell Me You Love Me/ No Time To Lose Ya/ Sister Christian/ (You Can Still) Rock in America

Review by Jason Ritchie
Photos by Andy Nathan
---