NICK CAVE Reissues EMI (2011)
Nick Cave's key back catalogue has been reissued, each one containing a bonus DVD, the original booklet plus the fully re mastered edition from the original tapes. The packaging alone is to be commended if record companies and artists are going to work together to ensure that illegal downloading can be combated on a number of battle fronts. These reviews have been arranged to merit as opposed to chronology.
The Boatman's Call was the follow up to the seminal 'Murder Ballads' which portrayed Cave, not as front man but as a songwriter with some heavy things on his mind.
On the face of it, Cave's haunting oratory could have marked the end of the whole nine yards, such was the strength of the previous post punk back catalogue, the best of which is 'Let Love In' (see below).
And yet instead it shows that Nick Cave had songs in his head which didn't necessarily need the clichéd hair styles to carry them off.
The decision paid off with 'People Ain't No Good' eventually finding its way into film as part of the 'Shrek' soundtrack. Some might naively see this as 'selling out.' Wrong. It means more people get to hear Nick Cave and The Bad Seeds.
These are songs which are highly personal expressions of anger, confusion and relationship breakdown. An unashamed admirer of Leonard Cohen, the influences from the Canadian philosopher are pretty obvious. And yet Cave is no pretender.
Relationships can be highly complex as we all know. Do we need to be reminded of this though? In the three part suite of 'Where Do We Go Now But Nowhere,' 'Black Hair', and 'West Country Girl' we discover that we don't have to possess tortured souls to empathise with Cave's loss.
If I was banished to a remote isle, I'd be more than happy to reflect on the people I'll miss with Cave's seminal work as accompaniment to my quest for coconuts. *****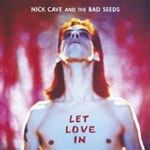 For most Cave fans, Let Love In marked the ultimate Bad Seeds album from the goth era.
By now Cave's characterisation of drunkards, murderers and other shady types had become familiar territory. And yet on this album the production lived up to the intention.
Take 'Red Right Hand' and 'Thirsty Dog' for example. I would defy anyone to argue that these songs had dated or been surpassed by watered down admirers such as the disposable Arctic Monkeys.
This album is immaculate in its conception and delivery. My own favourite is 'Loverman' with its intensity building to a crescendo, reminiscent of The Doors when they were at their creative peak. I can pay no higher compliment than this except to add that The Bad Seeds are not a borrowed sound.
'Aint Gonna Rain No More' shows more of what was to come in the era of the 'The Boatman's Call' (see above). In one sense I am sad that the full band arrangement in subsequent works was dropped. Any self respecting young band should take a listen and learn.
Unfazed by the triumphs of the past, we can see that Cave's 'onward and onward I go' journey into his own head is best expressed on the last track, the ironic, 'Do You Love Me Part 2?' which features on the accompanying DVD too.
If you don't own 'Let Love in,' then I am sorry to inform you that your collection is sadly flawed. *****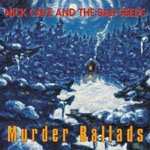 Except for the single, I had never heard Murder Ballads in its entirety prior to the remaster, so I was able to approach this without preconceptions. Once again irony is the main hook. The opener, 'Song of Joy' is anything but, describing as it does a crime of passion in detail from aforethought to execution.
This is Cave's ultimate folk album and fans of the genre should revel in some of the deeply thought out lyrics which accompany the simple yet expressive melodies throughout.
A word here for Kylie Minogue here who appears on 'Where the Wild Roses Grow.' Total respect for this lady who people often forget was experimenting with new vibes herself during this period. The result is sublime.
But it's Cave who deserved every plaudit he received for bringing in guests like Minogue, PJ Harvey and Shane McGowan to vary the intense characterisation within his scenarios.
Cave refused an MTV award but there's a reason why that particular channel shied away from its video darlings to recognise Cave's ability to touch the senses that other artists can only pout about.
It's a highly graphic album. At times you feel as if you are sitting listening to the story told in some local pub in Millhaven or indeed 'O'Malley's Bar. ' The clarity resulting from the remaster is breathtaking, particularly on 'Henry Lee' which is complemented by PJ Harvey's diction.
Don't be put off by the title nor its subject matter. 'Murder Ballads' is designed to challenge your moral codes while tinkering with your bio rhythms.
This album is more of its time though hence the four star rating. This does not detract from the fact that it's essential listening. ****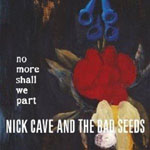 The opening track of No More Shall We Part 'As I Sat Sadly By Her Side' with its captivating hook is worth the price of the album alone.
Not quite as lauded as the above three, the album did receive recognition from critics on the grounds that he was experimenting with orchestrations.
This came as a surprise to many who were already familiar with the piano led simplicity of 'The Boatman's Call'.'
Ironically this is the album that benefits most from the re mastering, regardless of its star rating. On 'Love Letter,' the string arrangement comes to the fore.
The album also marks a change in Cave's vocal technique from the familiar guttural tones of early works, Cave often sings at a higher register than usual.
That piano reprise from 'Sadly' is back again on 'Fifteen Feet of Pure White Snow' and it's here that the lyrics become a little too obscure and, at times, comical. Perhaps this is deliberate and I have missed the irony.
Either way, apart from the beautiful arrangements, Nick Cave loses me. This breakdown of communication occurs a little too often on this album for my liking and yet it remains a highly emotional work with a reproduction to die for.
If you need an introduction to Nick Cave, try the first two before this one. ***
Review by Keith Thompson
Keith Thompson presents Rockwaves on Get Ready to ROCK! Radio, Sunday 21:00 GMT+1
---
| | |
| --- | --- |
| | Print this page in printer-friendly format |
| | Tell a friend about this page |