MICHAEL CHAPMAN Growing Pains 3 Market Square Records (2011)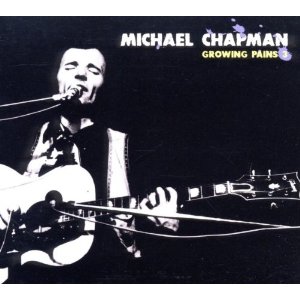 Singer-songwriter and guitar virtuoso Michael Chapman is currently enjoying the highest media profile he's had for decades. Following the widespread critical acclaim for the reissue of his masterpiece 'Fully Qualified Survivor' and the 2CD set 'Trainsong', the Market Square label follow up their 1977 live release 'And Then There Were Three' with an eclectic mix of Chapman rarities spanning almost 40 years!
'Growing Pains' was a series that began several years ago. This third volume is beautifully presented in a digipak which comes with a booklet illustrated with archive photographs, a track by track annotation by Michael himself, and detailed notes by Marc Higgins.
The earliest vintage here is two live acoustic recordings, 'Rabbit Hills' and 'A Scholarly Man', from 1969. Of the other live tracks, there an atmospheric take on Michael's classic 'Shuffleboat River Farewell' from 1983 (which features Rick Kemp on bass) and the laidback blues of 'So Young' from 1994.
There are a number of home recorded tracks, beginning with 'For Mr G' (Jimmy Giuffre) which finds Michael sitting on a sofa in the mid '70s 'trying to be Jim Hall twice!
Maddy Prior and Rick Kemp guest on two 1986 demos for the TV series Border Ballads, while 'Babe' and 'Too Soon To Tell' are both slow burning jazz ballads with vocals by Ann Jenkins.
The most interesting cuts stem from an aborted 1999 project instigated by Sonic Youth's Thurston Moore (a long-time admirer/supporter of Michael's). 'Untitled' is a captivating instrumental soundscape, showcasing Michael's guitar prowess with added layers from Moore and Jim O'Rourke.
Even better, and the highlight of this collection, is the hypnotic splendour that is 'Youth Is Wasted On The Young'. Michael accompanies his distinctive acoustic guitar playing with a beautifully gruff and understated vocal – augmented by some spooky (almost other-worldly) swirls from Moore and O'Rourke, this really is an amazing piece of music.
The CD closes with an alternate and very different version of 'Youth' from 2005 which features Michael's wife Andru on vocals.
With such a diverse selection, this set really offers something for everyone - from the Chapman aficionado who must own everything to the newcomer who has only recently discovered him - this is a treasure trove of fully qualified rarities!
****
Review by Jim Henderson
Jim Henderson presents "Power Pop" on Get Ready to ROCK! Radio, Sunday 18:00 (first and last Sunday of each month)
---
| | |
| --- | --- |
| | Print this page in printer-friendly format |
| | Tell a friend about this page |