MICHAEL BRUCE Be Your Lover: Anthology Retroworld FLOATM6088 (2011)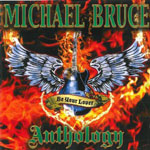 If ever you wanted proof of the significance of good production and the power of a brand name, Michael Bruce's 'Anthology' album is it. As die hard rock fans know, Michael was a significant member of the original Alice Cooper band, who co-wrote many of the hits featured on the 'Live and Rare' disc here. The aptly titled first disc, 'In My Own Way' nails its creative source to the Beatles mast, with plenty of George Harrison style slide guitar lines, McCartney piano and vocals, a Ringo sing-along on 'If I Was King' and even a brief Lennon vocal snarl on the otherwise Eagles sounding 'So Far So Good'
According to Mick Mashbir the second guitarist on the album, the 1975 album was actually recorded between 1973 and 74 and the material reflects the soft southern Californian rock of the time. And it is this collision of soft rock and Bruce's Beatles influences that gave the project its often unfulfilled potential. What's missing is a Bob Ezrin style producer - the de fact difference between the pre and post styles of the 'Love It To Death' breakthrough album - and the Alice moniker!
From the opening George Harrison style slide of 'King of America', Bruce treads a steadfast MOR path full of gentle melodies and anodyne arrangements, even managing to make a rock version of 'Friday On My Mind' sound less snappy and urgent than the original. But things get better as Alice Cooper lends a hand on the 'Diamond Dogs' sounding 'As Rock Rolls On'.
The band also work up a head of steam on the Eagles influenced 'So Far So Good', but it is Michael's Beatles fixation that offers the most significant results, especially on the strong melody and Fab four harmonies of 'Seems Like I Only Fool Myself'. This is a perfect example of what a Beatles style, Jeff Lynne song might sound like before being given the ELO production sheen. There's also a McCartney style piano part on 'Ain't That Just Like Life' and better still a combination of resonant piano, a lovely slide figure, mellotron, sumptuous bass, and more McCartney vocals on the impressive 'Oh My Life'. The closing 'Nothing on Earth' even manages to sound like Bad Finger, suggesting that with a little more backing Bruce might have kick started a more significant solo career.
The second CD 'Live And Rare' comes with few surprises being mostly live versions of Bruce's early Alice career. But he does toughen things up on the breakthrough hit 'I'm Eighteen' and the snappy time signature and wailing guitar of 'My Stars'. As on the following 'Left For Dead Meat' he adds an Alice style vocal.
The intro to 'I Miss You' suggest the live recording came from Bruce's 1977 Billion Dollar Babies outfit, and like the following band named track, is full of flat out twin guitar rocking. The equally fiery 'Schools Out' is preceded by his 'goodnight ladies and gentleman' suggesting a climax to the show. You can't help but think that had BDB's been around in today's retro looking scene there would be a significant audience waiting for them.
And while the cluttered 'Too Young' is less impressive, up pops the beautiful slide guitar and piano combination and McCartney vocals of 'Oh My Love', a song that like much of the best studio stuff here, is only missing a telling production. Equally impressive is the power pop of the closing 'Do You Want To Know' which could surely have possibilities with resurrected AOR bands like Journey or Europe.
Had these two albums been issued separately 'In My Own Way' would receive 3 stars and 'Live and Rare '4. Together they would have to settle for
***½
Review by Pete Feenstra
---
| | |
| --- | --- |
| | Print this page in printer-friendly format |
| | |