Just witnessed your best live gig?.. send us a review!
MARIACHI EL BRONX/ Tim Kasher
Electric Circus, Edinburgh 20 November 2011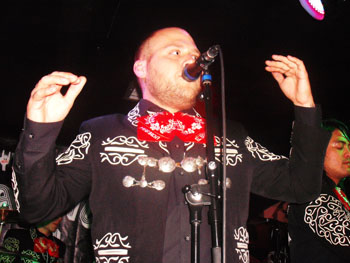 We found ourselves in Edinburgh on a rather cold and damp night to witness the one and only Mariachi El Bronx. The band are a one-off blending the bands hardcore punk ideals with possibly the sunniest music know to man.
Tonight's gig was originally scheduled to take place in the bigger Liquid Rooms but was downsized to the Electric Circus at the last minute, obviously the word hasn't got out yet on how good these guys are, but the people in the know are an enthusiastic bunch and no matter how big the crowd is, it is party time.

First up though we had Tim Kasher who has dabbled in indie rock and hardcore punk with several bands, but here it was just one man, an acoustic guitar and a twisted sense of humour.
The main subject of most of his repertoire is lost loves and an iffy sex life which are all delivered with angst ridden vocals and a tongue firmly in cheek. Songs like Bad, Bad Dreams and Cold Love showed off Tim's talents well and by the end of his set he had won the room over completely.
Having hot footed it from Dublin across to Edinburgh during the day, including catching a ferry at 5.30am, when Mariachi El Bronx hit the stage front man Matt Caughthran admitted they were feeling a bit ferry lagged but once the music kicked in the place came alive.
Opener '48 Roses' perfectly showcases what the band are all about. The music is amazingly uplifting and guaranteed to put a mile wide smile on your face, forget about the economy going down the pan or the jobless totals climbing, this is total escapism which we all need from time to time.

The set is culled from the bands two albums which are imaginatively titled 'Mariachi El Bronx'and 'Mariachi El Bronx II' with the highlights of the set being the afore mentioned '48 Roses', 'Cell Mates' and 'Revolution Girl', the latter being catchier than measles.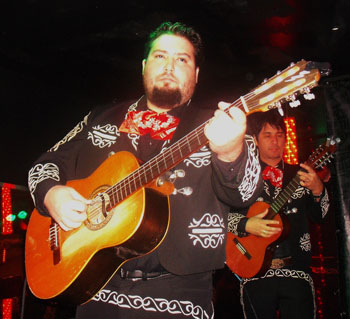 The music may be all sunshine and smiles but the song content has strong social comment which points to the bands hardcore roots and living in California they have witnessed first hand the plight of the Mexican immigrants, which was the inspiration for the side project in the first place.

The set was fairly brief clocking in at just over an hour, but it was testament to the band that no one felt short changed. The night was a triumph with the band proving yet again what fantastic musicians they are and how a slice of Mexican magic can brighten up even the dampest of Scottish nights.

I recommend you catch the guys at some point, if you are not dancing like an idiot with a huge smile on your face by the end of the set I would get someone to check for a pulse!

Review and photos by David Wilson
---