Just witnessed your best live gig?.. send us a review!
LOVE AND MONEY, The Met, Bury
26 September 2011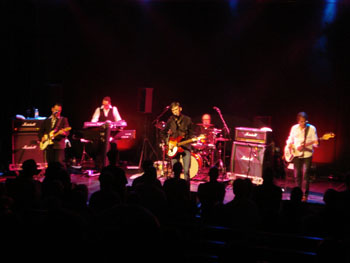 Zoom (Click large image to cancel)
For a band who rubbed shoulders with ace producers Tom Dowd and Gary Katz in the eighties it's a shame that they didn't rub against King Midas too. By rights, Love And Money should have been huge. Failing to exploit eighties excess, the band released four albums and disappeared in 1994, their leader James Grant then following a rather more low-key solo career.
Fast forward 20-odd years and the band reunited for a Celtic Connections gig in January this year and suddenly realised what they had been missing. For James, evidently, the ability to crank out an electric guitar in some style. There was some irony in his comment to the crowd before ''Halleluiah Man' that "this is the song where I can pretend to be an international rock star…" He should have been, and could still be. One suspects he should at least have been huge in Nashville with his superior tunesmanship.
I had wondered whether the reunion was more about love, or money. "Friendship", he told me before the gig, so perhaps the former. The band, spurred on by that reunion, are well into recording a new album 'The Devil's Debt' due early next year. If they are very clever, they could savour success second time around. And this will be fully deserved.
Many of their contemporaries tread the boards trading on one or two major hits as part of an eighties revivalist package, but when you dig deeper in to those bands the albums are patchy or - frankly - pathetic. Love And Money had great songs, a funky and compelling undertow tinged later with brooding rootsy flavours, and their albums were fairly consistent perhaps with the exception of their debut in 1986.
Sadly now without bassist Bobby Patterson (to whom Grant dedicated the sublime 'Walk The Last Mile'), L & M retain Paul McGeechan (keys) and Douglas Macintyre (guitar) plus drummer Gordon Wilson who joined for the third album, whilst adding Grant collaborator Ewan Vernal on bass. So this is an authentic reunion too.
The last time I saw the band was a month after the release of the classic 'Strange Kind Of Love' when for undisclosed reasons the band arrived over an hour late at Liverpool Polytechnic. Tonight's gig at the intimate Met, nudging two hours and showcasing that album and its successor, more than made up for the anticipation and disappointment 23 years ago - not least in the pristine sound quality.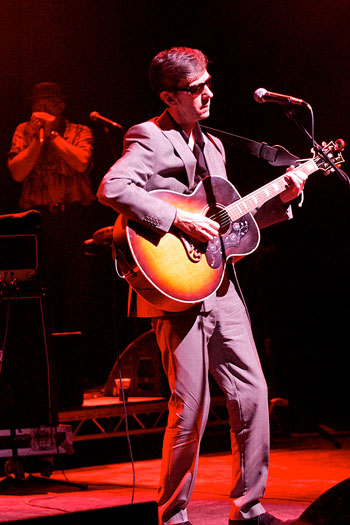 Photo: Bob Singleton

Starting off with the sinewy 'My Love Lives In A Dead House' the band made it sound like they had never been away. A superbly paced set that contained real highlights not least some superb, dry Glaswegian humour from the frontman matched only by his visceral guitar. And as if to reiterate the strength of the songs, this had me wanting to re-evaluate 'Dogs In the Traffic' and explore the less immediate songs on that album such as 'Sometimes I Want To Give Up'.

Not quite the expected track by track recital, but we did get a reworking of 'This Is The Last Time' which appeared on Grant's debut solo album and which crops up again on the forthcoming album and 'The Last Ship on The River' from the strongly recommended band swansong 'Little Death' released in 1993.

Quite what the non-believer would make of all this is another thing, the audience were clearly partisan. If the yells of 'Simple Minds' were somewhat tenuous (prompted by Grant's own reference to an imagined Simple Minds T-Shirt in the audience – Love And Money were selling their own tonight plus a mug) - it did emphasise that their fellow Glaswegians – cruelly perhaps - enjoyed greater success.

It would be fitting that if - 25 years later - they finally emerge from the shadows of their contemporaries. It might mean, too, that the newly converted then investigate Grant's equally fine solo work.

This was one of 2011's finest gigs, that's for sure.

2011 dates:

Thu 29th Sep 2011
Perth Concert Hall (Perth)

Fri 30th Sep 2011
The Queen's Hall (Edinburgh)

Sun 2nd Oct 2011
Eden Court Theatre (Inverness)

Fri 7th Oct 2011
Shepherds Bush Empire (London)

Sun 4th Dec 2011
SECC/ Clyde Auditorium (Glasgow)

James Grant plays a solo gig at the View Two Gallery in Liverpool on 29 October.


Review by David Randall

Photo Gallery 7 Oct 2011 by Bob Singleton

---
James Grant gig review (October 2011)
James Grant and Love And Money regularly feature in our singer-songwriter sequence (Mon-Fri 14:00 GMT)