LINDSEY BUCKINGHAM Seeds We Sow Eagle (2011)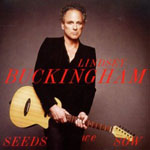 2011's been a great year so far for Mac fans. Firstly we got the surprisingly fine Dave Stewart produced solo album In Your Dreams from Stevie Nicks which, featuring material from as far back as Rumours and a wonderful cameo from Buckingham on Soldier's Angel, proved that she's still got what it takes (and some of us, let's be honest, doubted she still had it in the locker).
And now, free from his previous contract, we get a new solo album from the other half of the Mac front line, guitarist Lindsey Buckingham - an album which is already garnering very positive reviews from the mainstream press. So I was really looking forward to getting my hands on this one.
All the distinctive Buckingham hallmarks are there - the manic finger picking and percussive compositional style. And yes, Lindsey's continued pushing the envelope in a way some may simply see as self indulgence, but after a few listens (yes, it's an album you need to persevere with), it's an album that really begins to get under your skin. .
With his unmistakeable vocal style, there's no chance you would mistake Seeds We Sow for anyone other than Lindsey Buckingham. But, known for his desire for experimentation since Tusk, he's always needed the influence of the other Mac members to temper his output into some of the best soft rock of recent decades, perhaps most significantly Tango In The Night - the Mac's second biggest seller and a set that originally started life as a Buckingham solo album.
But Seeds We Sow was pretty much put together in a vacuum, and only one track - That's The Way Love Goes featuring any other musicians. The result is that Lindsey's creative juices have flowed unabated (which includes mixing and production). And whereas Stevie Nicks has flourished under the guidance of Dave Stewart, Lindsey has sought inward solace.
As a result the album cries out for some checks and balances, but then Lindsey's always been a man who likes to go his own way, and if you're one of those people who thought Tusk was Mac's finest hour and have sought out his previous solo material, then Seeds We Sow is definitely for you. On the other hand if you're looking for something at the other end of the AOR spectrum, you could do a lot worse than to check out In Your Dreams.
But Seeds We Sow demonstrates, once again, that Lindsey Buckingham is something of a genius. It's an unquestionably impressive piece of work. How much better could it have been with the input of Messrs Fleetwood. McVie. McVie and Nicks we can only wonder. It could have been stratospheric, but even in isolation Lindsey Buckingham once again proves himself to be a very rare talent.
****
Review by Pete Whalley
---