Still abusing his organ...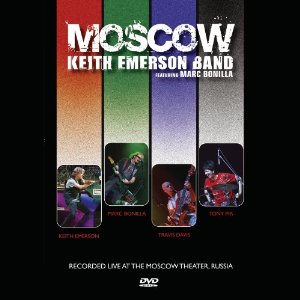 For those of us of a certain age, the name Keith Emerson is synonymous with prog excesses (with partners in crime Greg Lake and Carl Palmer), organ abuse (ooh, err, missus), knive throwing, and mullets.
While ELP are sadly long gone, their spirit lives on and since 2008 Emerson has been teamed up with guitar wizard/vocalist Marc Bonilla (Glenn Hughes, ELP, Toy Matinee), drummer Tony Pia (Edgar Winter, Brian Setzer, Doobie Brothers) and bassist Travis Davies.
Recorded in 2010 in Moscow, and available on DVD, or as a 2-CD set, Live At The Moscow Theatre captures an explosive set that delves back into the ELP catalogue for classics such as Karn Evil 9, Lucky Man, Tarkus and The Nutcracker Suite as well as featuring material from the band's widely acclaimed 2008 debut album (a double, naturally) - The Keith Emerson Band featuring Marc Bonilla.
The Russia gig was the premiering of this new material, an event captured for posterity (and for those purchasing the DVD and having the necessary hardware) in 5.1 surround sound by a Russian film crew. And the both the sound quality and the photography is excellent, the latter making the most of what is a fairly sedentary performance visually.
But, I'm not sure what else you'd expect - Emerson is now in his mid sixties although you'd never guess it, and he looks great surrounded by his banks of keyboards and an array of cables and wires that would put most telephone exchanges to shame.
The set is a mixture of the new and the old - Bonilla handling the vocals effortlessly throughout, and the of the new material Touch And Go, and Miles Away Parts 1 and 2 are particularly worthy of mention.
Extras, there's only a few - a brief tour montage, and a photo gallery, but musically, we're talking excess. But what else would you expect from Keith Emerson? And, perhaps sadly, I can report that no keyboards were harmed in the making of this excellent DVD.
****
Review by Pete Whalley