Just witnessed your best live gig?.. send us a review!
JUDAS PRIEST/Queensryche/Rival Sons
SECC Glasgow, 19 July 2011
Photo Gallery by Steve Goudie (Manchester Apollo 16 July 2011)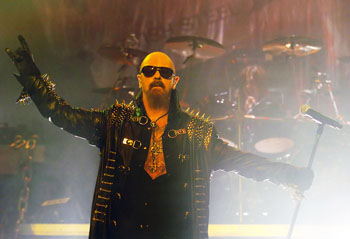 Photo: Steve Goudie
I nearly didn't go to this gig. I already had tickets for Iron Maiden the following night and was struggling to justify the added expense, but my wife was keen to go and as we both have birthdays coming up we thought why not. It proved to be the right decision and then some.

We were a bit late getting into the hall and were greeted with the sight and sound of Rival Sons in full flight. There is a lot of hype surrounding Rival Sons at the moment and they are gaining a lot of radio airplay. I only caught 3 songs of their brief set and whilst they played well they came across as fairly average, not bad but essentially not great. All hype and no real substance, only time will tell….

Next up on this three band package were Queensryche. I have always felt I should like Queensryche, but although I have tried listening to them on several occasions and seen them live before, they just leave me cold.
Don't get me wrong, they are a good band with some excellent songs in their back catalogue and tonight's performance was good, well played, but there was no real heart in it.
The 8 song set included 'I Don't Believe In Love', 'Empire' and 'Eyes Of A Stranger' which should have shone, but Geoff Tate and crew made them sound workmanlike and uncharismatic, shame.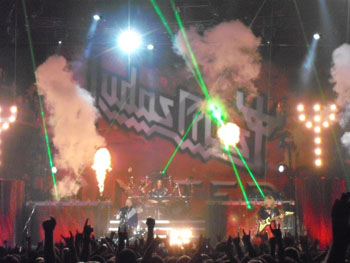 Zoom (Click large image to cancel)
So far, so average then, but we still had the mighty Priest to come and save the day and by god did they.

This current world tour is reported to be the bands last and with KK Downing pulling out at the eleventh hour there were doubts over whether it would all be a bit of a farce.
That question was answered before the end of the opening number 'Rapid Fire', Judas Priest were in town and were going to go out in a blaze of glory. What followed was the gig of the year, no contest, no correspondence will be entered into!

The set was comprised of a track from each Priest album through their career and with a back catalogue as good as Priest's it was what to leave out that must have been the biggest headache. 'Metal Gods' was next up closely followed by 'Heading Out On The Highway' and the classics just kept coming.

All the band, including new guitarist Ritchie Faulkner were in stunning form. Rob Halford never missed a note all night and his screams can still strip paint from venue walls.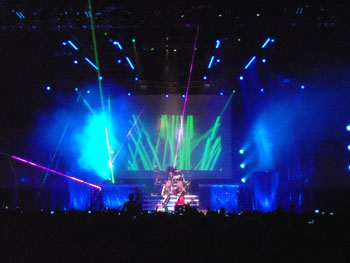 Zoom (Click large image to cancel)
The stage set was draped in chains and there were more smoke and flames on stage than you would find in a (British) steel works. There were also a multitude of lasers which were used to great effect and video backdrops showing each album cover as they came along.

Staging aside though, it was the band and the performance that really impressed and the two real highlights for me were 'Victim of Changes' and a blistering rendition of 'Painkiller' which rounded off the main set.

Encores, how about 'Electric Eye', 'Hell Bent For Leather' with Rob riding his motorbike on stage, 'You've Got Another Thing Coming' and finally 'Living After Midnight' to top off a breathtaking gig.

If this is the last tour Priest do then on this form it would be a travesty, but it has been reported they might still do festival appearances in the future.
If that's the case then Twisted Sister could lose their crown as ultimate festival band because on this form Judas Priest are untouchable.

As I said, gig of the year.
Review and additional photography by David Wilson
---