Just witnessed your best live gig?.. send us a review!
JOANNE SHAW TAYLOR,
O2 Academy, Islington, London 31 May 2011
Photos by Noel Buckley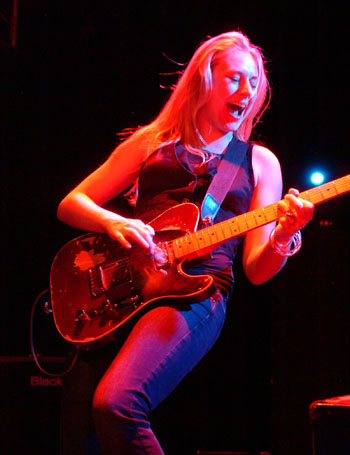 OK so here's the deal, you're a young rock blues guitarist playing to a surprisingly big post bank holiday London crowd. You hit the stage with a perfunctory wave and steam into a stomping groove with a click-clack rhythm and the first of several brief explosive volleys of notes on a self penned song 'Goin Home'.
You lean slightly to your left, growl into the mic, throw back your mane of blonde hair and effortlessly caress the neck of your guitar with the panache and dexterity of a seasoned guitarist.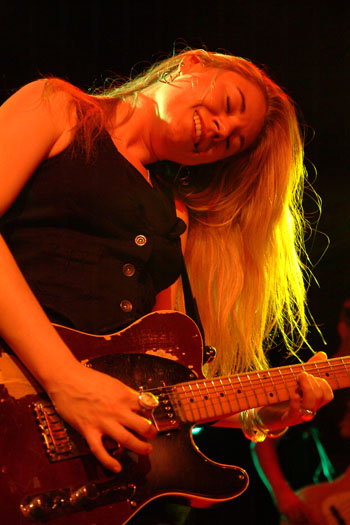 You whirl across the stage like a spring coil dervish, flash a smile to the responsive audience, add another growl for good measure, and eventually shout to the crowd 'How's everybody doin tonight?'
This unsurprisingly draws a hearty response and you go about your business with a heavy duty shuffle and for a bewildering moment your middle aged fans are transported back in time to the dewy eyed days of the fret board magic of the younger Johnny Winter, but with added restraint and certainly way more cool.

So welcome to the new generation blues in the capable hands of Joanne Shaw Taylor.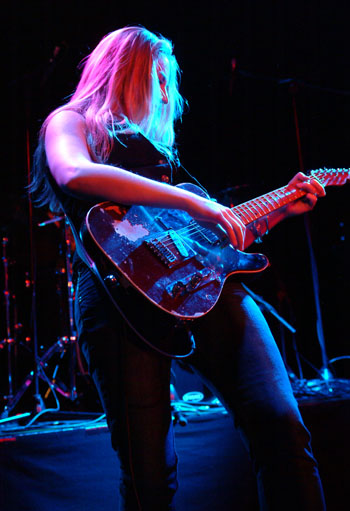 Not only does she ride rough shod over the gender divide that has blighted rock/blues for far too long, but she's got a hyphenated name and goes about her business with a confidence that can only come from a natural playing ability that has projected her into the mainstream rock media.
The BLUES moniker may have been removed from her guitar strap but that didn't stop her from dipping into the genre on an eloquent rendition of her own slow blues 'Time Has Come' from her breakthrough 'White Sugar' album.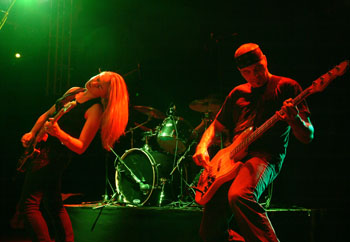 Zoom (Click large image to cancel)

Joanne was ably aided and betted by Layla Hall on drums and dreads and the impossibly tall Paul Andrew Ulysses Lamb on bass, who earlier gave us a blast of his own pile driving Detroit rock, most fully realised on the closing 'The Time of My Life'.
Joanne wasted little time in shaping her set with high energy gusto, nimble finger work and above all song craft. And in a workplace populated by macho egos and of course the grand gesture, she's torn up the script to play sizzling rock blues on her own terms.
And over the course of the next 90 minutes she delivered what her disciples hoped for: smouldering rock blues peppered with steely licks and enough light and shade to bring to life the impressive material from the current 'Diamonds in the Dirt' CD.
What sets Joanne Shaw Taylor aside from her contemporaries is her fearless ability and a willingness to see where her natural exuberance takes her.
She explored a pounding shuffle on 'Watch Em Burn', a bone crunching version of The Hoax's 'Bones' and a hypnotic groove on 'Diamonds in the Dirt'.
Then there was the high velocity rhythmic feel of the excellent 'Jump That Train' and the slow burning 'Shiver and Sigh'. On the latter she bent almost parallel with her guitar neck to extract maximum tonal resonance as she explored a raft of jazzy notes over Layla's extravagant cymbal splashes.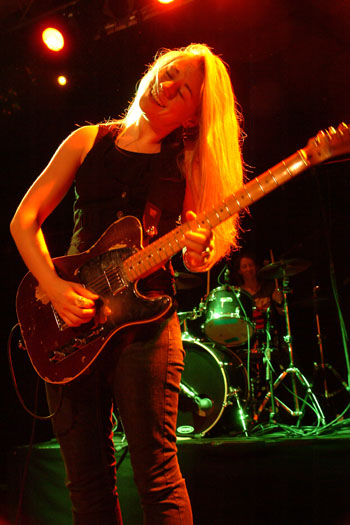 Joanne later confided to us that she'd played the very same stage in its previous incarnation as the Marquee, using underhand tactics to indulge in some underage drinking.
No such subterfuge was needed tonight as she made her mark on her biggest London show to date, impressing all with her varied use of tone, speed and a judicious exploration of the loud/quiet divide that is all too often abused in the name of dynamics.
No such problem with Joanne though, whose mix of repeated note flurries, subtle use of sustain and ever present blistering runs made sure that her band roared like an ocean.
The trio finally came to rest on a crashing conclusion on a cover of Don Nix's 'Goin Down', remarkable for Layla Hall's bare handed drum solo and a perfunctory splash of her cymbals with her lanky dreadlocks. It was an unexpected but true rock and roll moment on a night when all other expectations were effortlessly fulfilled.
Review by Pete Feenstra
Photos by Noel Buckley
---