JIMMY CAMPBELL Live 1977 Viper (download) (2011)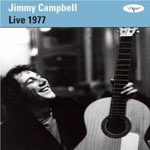 Liverpool born Jimmy Campbell was a member of the 1960s groups The Kirkbys and The 23rd Turnoff (the latter best remembered for their haunting single 'Michelangelo') before releasing three solo albums and a fine power pop style record with Rockin' Horse. Esoteric issued lovingly packaged editions of the solo albums on CD in 2009, two years after Jimmy's death, and Viper now add to his legacy with a 25 track live album.
Recorded at a poetry festival at Essex University on 21st November 1977, Jimmy was booked to play by Mark Kelly who has written a fascinating insight into the event and the pair's friendship - this can be found on Viper's website: http://www.the-viper-label.co.uk
The two sets performed are made up of songs from the aforementioned albums and no fewer than 12 previously unknown songs. Some of these are said to have been recorded for a 'lost album' that was stolen from Jimmy's house.
Of the familiar material, the highlights are an impressive performance of 'It Never Rains But It Pours' from 'The Jimmy Campbell Album' and a quite glorious 'The Biggest Gossip In Town' which shows off his vocal ability at his Lennon-esque best!
It's also fascinating to hear 'Half Baked' in solo acoustic form compared to the heavy band version on the album of the same name - Jimmy delivers a gutsy and somewhat ferocious performance.
Turning to the hitherto unknown songs, 'Not Tonight' is magically spellbinding and there's a pair of melodic gems in 'I Wouldn't Let That Happen To You' and 'A Bride For The Second Time'. 'All The Way To The USA' is reminiscent of Bob Dylan (with a Mersey twist!), and 'When I Cross My Path' is another strong number which is played in both sets.
Mark Kelly captured the performance on a standard cassette through an external microphone. Only intended for private use, great improvements have been made although it's still somewhat lo-fi quality. Jimmy's performance itself is pretty raw at times, but it's a minor miracle that this recording even exists.
Featuring just Jimmy and his acoustic guitar in front of a small gathering, it's certainly a valuable addition to the limited amount of available material. Newcomers are directed to the studio albums first, but existing fans will hopefully, like me, find this a captivating listen.
****
Review by Jim Henderson
Jim Henderson presents "Power Pop" on Get Ready to ROCK! Radio, Sunday 18:00 (first and last Sunday of each month)
---
| | |
| --- | --- |
| | Print this page in printer-friendly format |
| | Tell a friend about this page |