Tribute to guitar pioneer with unseen footage...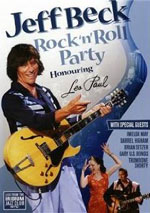 Jeff Beck's 'Rock 'n' Roll Party' is a superbly played and equally well filmed DVD account of inventive guitarist paying homage to his mentor Les Paul, who would have been 95 on the night.
There's a lovely ironic thread running through the heart of this project as Jeff Beck remembers Les Paul the musician, guitar pioneer and inventor, a musical heavyweight whose early career he inadvertently eclipsed with The Yardbirds, as part of the nascent R& B scene. It's a fact that obviously isn't lost on Beck as he reminisces about Jimi Hendrix in a post gig interview bonus feature, and explains how Hendrix took his guitar experimentation with the Yardbirds to a completely different level.
But irony aside, 'Rock 'n' Roll Party' strikes a workable balance between some rather predictable covers, a batch of essential Les Paul songs, a couple of guests and a Bill Haley finale.
And while the sales potential of this DVD might be slightly hampered by its focus on rock & roll, it is Beck's ability to transform the sometimes mundane and frankly pedestrian into something exciting and vibrant that makes this DVD worth exploring. Both Imelda May's breathy vocals and stage presence and the redoubtable Darrel Highams on vocals and guitar, provide the perfect foil for Jeff's guitar explorations. And together with a tight house band, you have the basis of a red hot rock & roll party.
'Rock 'n' Roll Party' was filmed and recorded at New York's 200 capacity Iridium Club, a venue that had become Les Paul's musical home for years. Beck does a great job of showcasing the art of Les Paul, a man whose love of life and musical inventions continues to inspire Beck's own adventurous playing style. Director Milton Lage's film puts you right in the front row, giving us an almost unique opportunity to enjoy JB close up and personal
Unsurprisingly 'Rock 'n' Roll Party' has the natural ebb and flow of a live show, as Beck works his way through an array of guitars - naturally enough settling on a Les Paul for 'How High the Moon' - before finally ripping it up with a fine ensemble finish.
Beck calls Les Paul 'the first person to understand how to properly record the guitar' and notes that 'his sound was different'. And over the course of 27 songs he demonstrates just what the art of guitar playing is really all about. On Gene Vincent's 'Double Talkin' Baby' his Black Gibson fires off shrill notes, while on Johnny Burnette's 'Train Kept A Rollin' he opts for a bigger tone on his Strat as Darrel produces an excellent vocal performance. And as the band really hit their stride the audience responds with animated woops.
Beck is all subtle slide guitar touches and a beaming smile alongside Imelda on 'Poorboy', and she makes the smoky ballad 'Cry Me A River' a work of her own as Beck adds jazzy touches.
The band rip it up on Presley's 'My Baby Left Me' before they slip into the jump feel of Les Paul's signature song 'How High The Moon', with more stunning runs from Beck
At this point the choice of material drags a little. And even though Beck continues to sparkle, adding some out of this world Les Paul sounds on 'Mockingbird Hill' and Imelda can't be faulted, rock fans might be looking for the fast forward button. But they would miss Beck's brilliant Chet Atkins style picking on 'Tiger Rag' and a five strong horn section on the rumbling 'Peter Gunn' instrumental, with blues Brother Lou Marino and Trombone Shorty. Jeff also evokes the Les Paul inspired twang on the Shadows 'Apache' and the Hawaiian feel of Santo & Johnny's 'Sleepwalk'.
Gary US Bonds steps up for the call and response R&B of 'New Orleans' before the stunning 'Walking in the Sand' which is arguably the evening's defining moment. Jeff provides a stellar guitar intro over some weighty horns and Imelda's gritty vocal before he delivers the perfect resolution to the song with a sublime solo full of speed, taste and technique. Awesome!
There's still time for Stray Cat Brian Setzer to dual with Beck on '20 Flight Rock' as the show works toward an inspired finale.
But there's more, with some excellent bonus material including some great 1983 footage from NBC's 'Rock & Roll Tonite' with a rangy young looking Beck and an energetic Les Paul trading blues licks in front of the Billy Squire Band. It's the classic case of the guitar pioneer and his brilliant student in their element and makes you wonder why this hasn't been seen before.
The post gig interview is also excellent as Beck reflects on his musical roots, the salient parts of his career - including dinner with Hendrix - his curious relationship with Clapton and of course the influence of Les Paul.
Jeff Beck's 'Rock 'n' Roll Party' achieves its goal in honouring both a legend and his musical lineage. Together with the behind the scenes footage, a feature on Jeff's guitar collection and a succinct interview, this is a DVD worth purchasing even for non rock and rollers
*****
Review by Pete Feenstra