Just witnessed your best live gig?.. send us a review!
HENRIK FREISCHLADER BAND
Boom Boom Club, Sutton 16 September 2011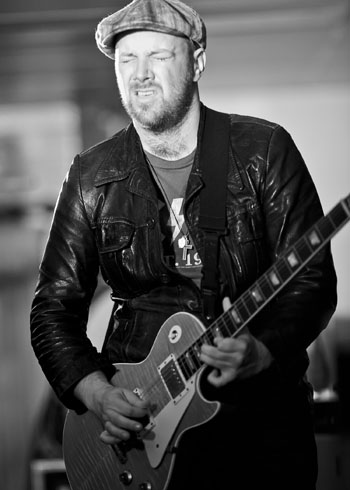 Man of the moment, Henrik Freischlader is a name you will undoubtedly be hearing more from in the not too distant future.
Freischlader and his band play the kind of retro tinged, groove laden rock-blues that recalls everyone from Robin Trower to Gary Moore while in his quieter moments he evokes the subtleties of Peter Green.
This debut London club date proved that HFB loves to seize the moment in the way that only a classic jam band can and build instrumental blocks of majestic beauty peppered with steely riffs, delicate interplay and an ever present sense of spontaneity.

Henrik's unhurried, almost understated style disguises a locker full of melodic ideas, inventive licks and cutting edge technique.
He incrementally worked his way through a succession of stretched out songs with clever dynamics that built the first set towards a climatic finish on the extended 'Bad Dreams', a number which shifted from the languid to the intense in a gloriously retro styled jam. The song followed a linear progression from its muscular opening via a riff driven groove with laid back vocals and dreamy organ, and in the blink of an eye we were into an extended jam.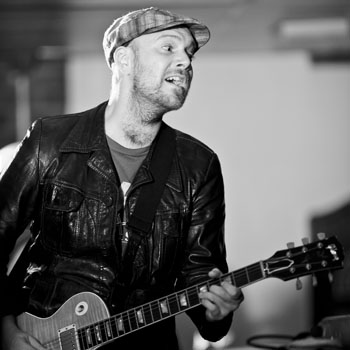 Initially Henrik brought the number down, teasing out the gentlest of exploratory notes over a subtle tension building groove as he engaged Mo Furhop on organ for some 'call and response' interplay. Suddenly the room went quiet and there was a mutual vibe in the making, leaving Henrik to bring the number back in with his whispered vocal and a sudden tension breaking explosive guitar break, as the drummer Björn Krüger thrashed away wildly.
This was as emotionally exhausting as it was musically exciting and if the band had finished the gig at that point people would not have complained.
It was also the pivotal moment when everything clicked, from the band's inspired jamming to the huge crowd reaction as the front row head bangers relived their youth. And in that illuminated flash you realised we were in the presence of a major talent.

Henrik humorously introduced 'Break Out' as 'loud and long' and provided the crowd with further evidence of the quartet's funky power and layered sound on an arrangement that cleverly mirrored the claustrophobic feel of the lyrics; 'So I'm heading nowhere, Get out of the place I'm in, Just to make up my everywhere, So that I can go back again'.
His magisterial guitar playing reached new heights on the brooding and atmospheric 'The Bridge', the intro of which owed much to Robin Trower. But like so much of Henrik's set it proved to be anything but predictable, building up layers of intensity before providing a jaw dropping dénouement when Henrik went through the full gamut of his playing ability from some tension building single note repeats and rapid note clusters to searing vibrato and a contrastingly tightly compressed wah wah solo that evoked early Zappa. All this, while Björn Krüger did his best Ginger Baker impersonation as he drove the band on with imperious force.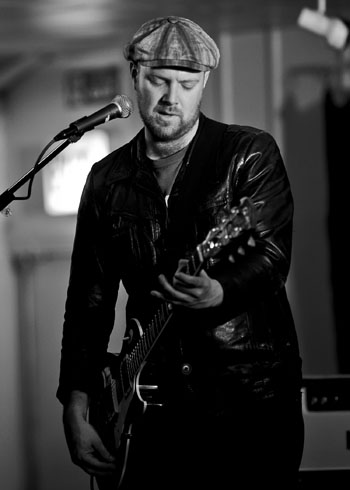 Apart from consummate power and drive, the band were equally impressive on the quieter material as Henrik nuanced Peter Green on the drifting blues of 'The Memory Of Our Love' and dug deep to conjure up some delicately warm notes on Etta James's 'Id Rather Go Blind'.
And right there, stage left and at the core of it all was the man himself, always half hidden beneath his peaked cap, with his gentle world weary vocals and a cramped body language that sometimes bordered on the point of introspection, only to suddenly explode with a scorching flurry of notes to offer you glimpses of his towering ability.
Frequently perched sideways on to the crowd, he often appeared transfixed by a spell of intense concentration, broken only by a knowing smile directed at his band mates as he launched into another layer of guitar magic.
And as the band hit the home straight with a brace of songs featuring Henrik's take on Hendrix and a cover of Roy Buchanan's 'The Messiah Will Come Again' - dedicated to his hero Gary Moore - the crowd rose as one to greet a new bona fide guitar hero.

Review by Pete Feenstra

Photos by Adrian Gee
Interview: 16 September 2011
© 2011 Pete Feenstra/GRTR! All rights reserved.
---