GRAHAME BOND Love Is The Law/Mighty Esoteric (2011)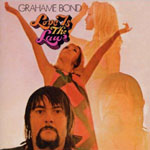 One of British music's sadder stories is the rise and fall of Graham Bond. His career trajectory from triumphalism as an r 'n b jazz fusion pioneer in eponymous Organisation with Ginger Baker, Jack Bruce, Dick Heckstall-Smith in the mid-60's to drug-addiction and mental illness within a decade is by way of these two obscure solo releases, recorded in the US for the Pulsar label, and never previously committed to CD.
Bond's voice may be no great shakes but that doesn't diminish his talent for composition nor his dexterity at the gothic Hammond and cooing mellotron (the big man was an early adopter of the melancholic mello).
Larger-than-life Bond's dominatation of 1968's Love Is The Law consequents not only his formidable physical presence but the fact he played all instruments but for the contribution of session giant Hal Blaine's drumming. ***
The following year's Mighty pulls in the likes of Harvey Mandel and Arthur Brown drummer Drachen Theaker amongst others to pack out a further ten brief but prickling essays in growly blues/funk/rock fusion.
If the band sounds like it hit the ground running, that could be because Graham promised the album turned around in less than two days. A bad call made good by the talent on offer here. ***
Sadly, poor sellers both, Bond's studio bankability was hugely undermined and this - coupled to increasingly erratic behaviour fired up by opiates and an obsession with the occult - tipped him into depression and the taking of his own life under a London train in 1974.
Tragedy in hindsight then inevitably informs these albums, where no amount of Californian sun can warm their subcutaneous winter.
Review by Peter Muir
---
| | |
| --- | --- |
| | Print this page in printer-friendly format |
| | |