GIRLSCHOOL Hit And Run Revisited Wacken Records (2011)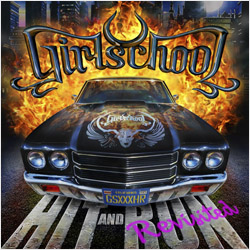 The original Hit And Run (1981), one of the best and successful albums by a UK all girl rock band, celebrates its anniversary this year and Girlschool have given it a brush up, a dust down, and a complete reinvention. And not only is there the anniversary, there is the tribute to original guitarist Kelly Johnson. Here replacement, Jackie ĎJaxí Chambers, joins the three other original members Denise Dufort, Kim McAuliffe, and Enid Williams.
From the outset this is upfront and in your face, with a sledgehammer. Opener 'Címon Letís Go' adds a real punch and a touch of shred. 'The Hunter' shows solid polish, melodic metal at its best, while '(Iím Your) Victim' is punkier. 'Kick It Down' and 'Following The Crowd' highlight the differences - the recording, and the band have matured, thereís a solid polish, but the band are still on top of their game; the vocal harmonies match the recording quality and the performances are all spot on. And itís all played as the band would play it now, although they are covering themselves itís not strictly by numbers.
'Tush' (the ZZ Top number) is a good cover and does inject some extra energy into the guitar.
The title track has always been stand out track, itís catchy and the chorus matches the riffs - itís classic rock and marvellous. Enid and Kim share vocals well, and 'Yeah Right' and closer 'Future Flash' stand out too.
This release adds two bonus tracks - 'Demotion' and another version of 'Hit And Run' with vocals from Doro Pesch'.
The album typifies the bandís influences and approaches - from classic rock to punk. This is a great album that should be relished and loved. It is hard, and perhaps unfair, to compare directly to the original but this stands just as tall. It also shows just how good the band still are.
****½
Review and interview by Joe Geesin
Interview first broadcast on Get Ready to ROCK! Radio, 11 September 2011
---
| | |
| --- | --- |
| | Print this page in printer-friendly format |
| | Tell a friend about this page |