FREEDOM CALL Live In Hellvetia 2-CD, SPV (2011)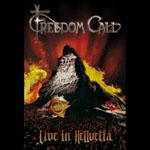 Any regular reader of these columns will know I have a soft spot for this German melodic power metal band, but when other contributors call their last album 'Power metal done properly', you know there's some justification.
Recorded in Switzerland late last year on the tour promoting the excellent 'Legend Of The Shadowking' album, this set opens with a roar before the band steam into the excellent 'We Are One' and 'United Alliance' before we get two tracks from the new set. Of these 'Tears Of Babylon' is a real corker; it's gothic, it's catchy, it showcases the big vocals.
'Out Of The Ruins' (also from the new album) is another memorable classic; whether it's the vocal harmonies, pounding rhythms or searing guitar work, the band never let up, it's all full power beginning to end, tightly performed.
Even the drum solo gets cheered along to.
Onto disc 2 and with two tracks from the Shadowking before we get 8 minutes of 'The Quest', piano intro and, well, just a damn fine epic and classic song. Then there's 'Perfect Day', which has a hint of Euro-punk, and is a very uplifting track.
'Far Away' and 'Mr Evil', both from Dimensions, also stand out. The former is a bouncy singalong with a Celtic feel.
The band's eponymous track 'Freedom Call' (like The Quest, from Crystal Empire), running at nearly 8 minutes, epitomises everything that is enjoyable and enthralling about this band. Never mind the power label, this is operatic melodic speed metal at its very very best.
The piano led 'Hymn To The Brave' is an epic way to finish the fine set.
Now what makes a good live album? A greatest hits package? A few surprises? Clarity? A tight performance? Power? Passion? Audience participation? A singer who talks to the audience? Consider every box ticked. And then ticked again.
Melody and power go hand in hand without compromise.
*****
Review by Joe Geesin
---
| | |
| --- | --- |
| | Print this page in printer-friendly format |
| | Tell a friend about this page |