Return to form for Foreigner...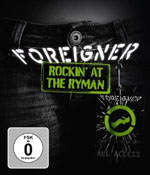 We got our first taste of the new Foreigner on the DVD part of their multi-disc 'Can't Slow Down'. But this is the real deal. Since their gig at the historic Ryman Auditorium in Nashville in March 2010 they have consolidated their renaissance, arguably scooping last year's High Voltage and iTunes festivals in the UK.
More than anything this 1 hour and 45 minute HD gig highlights the terrific vocals and stage performance of Kelly Hansen, who at a glance looks like a younger version of Steven Tyler. Any cynicism about his interpretation of a classic songbook, defined to a large extent by his predecessor, can firmly be put aside after this. Just listen to 'Waiting For A Girl Like You' for starters.
The rest of the band take these tunes by the scruff of the neck and all come out sounding fresh and relevant. Even Foreigner's dabble in prog 'Starrider' sounds convincing. And they even allow themselves a keyboard and drum solo before a jubilant 'Juke Box Hero'.
With second guitarist and sax player Tom Gimmel, Michael Bluestein on keys, Jeff Pilson on bass and Brian Tichy on drums it's a great ensemble performance. (Jason Bonham plays on the PBS Soundstage bonus material and Tichy was replaced by Jason Sutter in the current line-up). Founder and mainman Mick Jones must be very proud, it seemed for a while that the Foreigner juggernaut was in a side road after the disappointing later albums and a mid-1990s hiatus.
The only criticism of this set is the lack of tunes from the current album, somewhat bizarre as even in March 2010 the album had been out in the USA for six months. We only get 'In Pieces' and 'When It Comes To Love'.
To some extent the bonuses compensate, so there is footage from a 'Soundstage' gig and videos for three songs off the current album including, thankfully, the title track.
Visually and aurally this package is a treat, and whets the appetite for their UK appearances in June.
****
Review by David Randall