FOO FIGHTERS Wasting Light Sony (2011)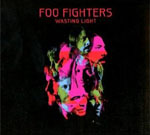 This album was recorded in Dave Grohl's garage, although I would imagine his garage is not like most - full of lawnmowers, paint tins and garden tools - but more likely recording equipment and a decent size to boot. The reason for this was to get back to a more basic sound with the recordings done on analogue.
The album was produced by Butch Vig, who produced the two new songs on the band's 'Greatest Hits' and sees Pat Smear back in the band full time plus former Nirvana member Krist Novoselic guests on 'I Should Have Known' playing bass and accordian. There are two other notable guests popping up on backing vocals, Bob Mould and the Tubes' Fee Waybill.
Like previous Foos albums it has some real melody foot stompers, like the single, a classic Foo Fighters song, 'Rope' and 'Arlandria'. The latter successfully melds a harmony filled chorus (sounding not unlike drummer Taylor Hawkins side project) with a bruising punk/metal verse.
Expect 'Dear Rosemary' to be a single at some stage as it has a wonderfully catchy chorus showing the Foos have a keen pop ear, albeit the other ear likes to hear fast riffing and a punk attitude. For a tempo change 'I Should Have Known' provides one, complete with the Krist Novoselic guest appearance, proving once again the band can do ballads/slower numbers without losing any of their power and passion in their music.
The album only really drops for me with 'White Limmo', where Dave Grohl goes all shouty and I have never really gelled with this side of the band. 'Miss This Misery' is not up to their usual high standards either.
Not as instant as some of their work but stick with it and you will find an album from a band still at the top of their game (it's not as easy as it sounds, just ask REM).
****½
Review by Jason Ritchie
---
| | |
| --- | --- |
| | Print this page in printer-friendly format |
| | |