Just witnessed your best live gig?.. send us a review!
EUROPE
London Shepherds Bush Empire, 18 February 2010
Photos by Noel Buckley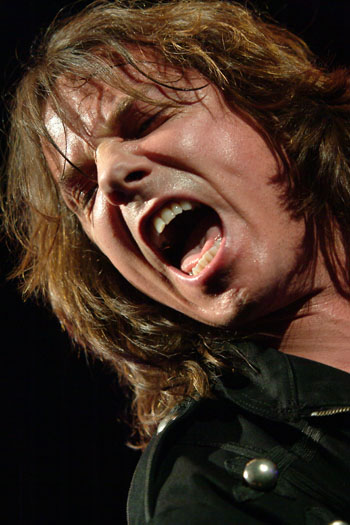 Europe's remarkable revival is going from strength to strength. Despite this being their fourth London show in under 18 months, and with no new product, the 'house full signs' were posted at the Empire Box Office.
On this oddly titled 'Balls and Banners' tour, support came from West Midlands rockers Voodoo Johnson. I am afraid that in a 30 minute set their grungy sound failed to light my fire. To me they were lacking in melody and stage presence, with the exception of energetic new singer Nik Taylor-Stoakes, although to be fair they won a very warm reception.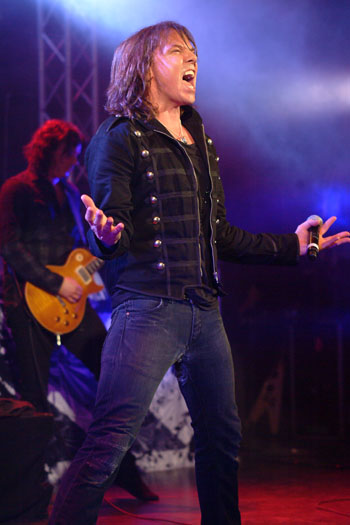 It would be easy for Europe to ride on a wave of eighties nostalgia, bolstered by the recent melodic rock revival, but the Swedes have successfully steered a more challenging path and the gamble seems to have been rewarded. They have re-emerged as a harder, less overtly commercial band, and the opening pair of the seventies influenced Last Look at Eden and the uncompromising The Beast set their stall out, to use the lingo of football pundits.
Surprisingly early they slipped in the crowd pleaser Rock the Night, Joey Tempest twirling his microphone stand and getting the crowd to sing along. The years have been kind to the one time teen heartthrob (and indeed the whole band) and as well as being very much the visual focus with neither guitarist John Norum nor bassist Jon Leven moving much from their spot, he provides an object lesson in how to grow old gracefully.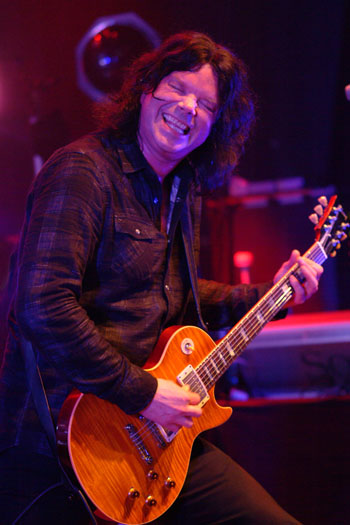 Oldie Scream of Anger was a reminder that Europe was originally founded on a love of the classic sounds of Deep Purple and Dio-era Rainbow, and a series of songs from the last two albums - the almost progressive, eastern-flavoured No Stone Unturned, The Getaway Plan, Love Is Not the Enemy, and Always the Pretender- show that they have returned to their original love of hard rock and updated it for modern times.
At times, propelled by John Norum's downtuned guitar, they can sound quite dark, yet Joey's vocals manage to keep them nothing less than melodic, and he shone on ballad New Love in Town which he revealed was written when his son was born.
No surprise guests appeared as had been rumoured, but in tribute to another of their influences, John also starred on a cover of Gary Moore's instrumental The Loner. The one shock in the set was More Than Meets the Eye from 1988's Out of This World getting a rare dusting down, though frankly it sounded a tad lightweight among the newer songs.
Among the odd dip into the hits, Carrie sounded much better to these ears for having the full band treatment rather than the stripped down acoustic version they sometimes play, and Superstitious, moved from near the beginning to the end of the set, saw John brilliantly replicate Kee Marcello's unique solo on the original.
The fans though seem entirely comfortable with Europe's new direction and - other than Ian Haugland's drum solo to an accompaniment of Charge of the Light Brigade - one of the biggest cheers of the night went up for Start From the Dark, the almost industrial flavoured title track from their 2004 comeback.
Indeed, proving that nostalgia is not a dish on Europe's smorgasbord, they even premiered a new song for the first encore, Doghouse, which was another slight departure in style, with a raw rock n roll feel with a touch of AC/DC and The Who's Long Live Rock.
However there are limits to how far a band can escape their past and during The Final Countdown the whole of the Empire was a joyous riot of people singing, punching the air and, at least in the stalls, pogoing up and down.
Surprisingly Cherokee was dropped from the set, and indeed those of a fluffier persuasion, myself included, might have preferred more material from the eighties, especially as the set weighed in at a relatively short hour and 35 minutes.
But the post-gig consensus was that this was a band not only moving forward on their own terms but sounding better than ever live. This show was being recorded for a DVD which should be force fed to any doubters still associating them with poodle perms and one cheesy hit.

SETLIST
Last Look at Eden/ The Beast/ Rock the Night/ Scream of Anger/ No Stone Unturned/ Carrie/ The Getaway Plan/ The Loner/ Seventh Sign/ New Love in Town/ Love is Not the Enemy/ More Than Meets The Eye/Always the Pretenders/Start from the Dark/Superstitious

Encores: Doghouse/The Final Countdown

Review by Andy Nathan
Photos by Noel Buckley
David Randall writes:
Having witnessed a somewhat (for me) disappointing gig a year ago, hopes were high for Europe's stop in Manchester (Academy 2, 25 February). Engaging the partisan crowd from the kick-off - with references to football and local brew Boddingtons - Joey Tempest led the band through an excellent set and ensemble performance.
With the whole band seemingly energized tonight, not least John Norum who even joked about 'Dancing Queen' during a more playful interlude (and who played a wonderful tribute to Gary Moore), there was a good mix of old and new.
The new track 'Doghouse' does have a more straight-ahead rock 'n' roll feel - more Aerosmith than Audioslave - and this gig placed into juxtaposition the lighter weight eighties stuff with the heavier material on the previous two albums and the more mainstream rock of 'Last Look An Eden'.
It seems that Europe is now attracting a wide range of punter - from those shouting for Almost Unplugged's 'Wish You Were Here' (with Joey's reaction that "you must think we are old farts from the sixties or something') to those early adopters who latched on to the excellent - and heavier - comeback albums 'Start From the Dark' and 'Secret Society', to those who have discovered the band through the higher profile 'Last Look At Eden'.
Hopefully Europe can continue to cater for all these diverse tastes as they prepare the next album but, as Andy says, they have firmly countered the prejudice of any doubters (the press included). We can even forgive them for that eighties cheese-fest 'The Final Countdown' which, I have to say, is sounding better than ever.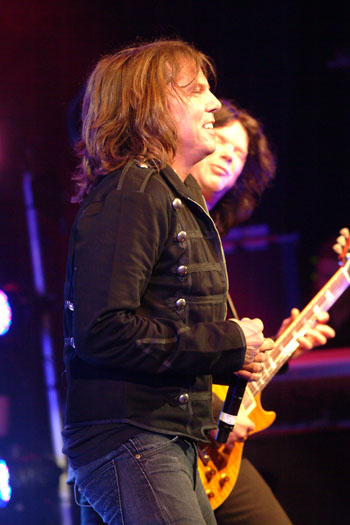 ---