ELEANOR McEVOY Alone MOSCODISC (2011)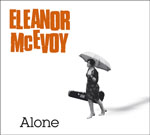 Alone, a pared back reflective set from one of GRTR's favourite singer songwriters, Eleanor McEvoy, is an unexpected release coming relatively quickly on the back of her excellent I'd Rather Go Blonde album. Especially, as it provides alternative versions of three tracks from that set.
Fans have been calling for a live album for some time now, and although many of Eleanor's more recent albums have been 'one woman' affairs where she's handled the vast bulk of the instrumentation, Alone is far more representative of the her live sets where she performs 'alone' with her electric and acoustic guitars, fiddle, keyboard and assorted percussion.
Without an audience to feed from, it's perhaps not unsurprising that Alone is a relatively sombre affair. Much of her material focuses on matters of the heart, and by her own admission the album was recorded (in the isolation of The Grange, a small studio in Suffolk) when her state of mind wasn't the brightest.
But what that does is focus in on the strengths of Eleanor McEvoy - her vocals and her songs. So recorded largely on a clean mic (the only exception being some double tracking on What's Her Name - an excellent new track that first surfaced on the 2008 Love Must Be Tough tour) and with just one instrument used per song - guitar, bass or keyboards, it's an up close and personal affair.
As many of the greatest songwriters will tell you, it's the space between the notes that are the most important, and here there's plentiful space that embellishes the vulnerability of the material and performance. It's a brave move that takes 'unplugged' to a whole new level, giving the listener an almost voyeuristic insight to the sentiment behind the songs.
Apart from the one new song and a very welcome cover of P F Sloan's Eve Of Destruction (a personal live favourite) Alone is a pretty accurate reflection of one half of a typical Eleanor McEvoy live set list. Add it to 2009's Singled Out collection (which has surprisingly little overlap) and you've got a pretty much perfect introduction to the work of one of Ireland's most gifted performers. Meanwhile, for fans it's the next best thing to that elusive live album.
****
Review by Pete Whalley
---
| | |
| --- | --- |
| | Print this page in printer-friendly format |
| | |