EARTHPRAYER Nine Days www.earthprayer.co.uk (2011)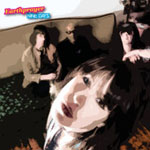 Earthprayer - a four piece from London wear their Stones, Janis Joplin, and hard rock influences proudly. And in Anglo-American vocalist Heidi Jo Hines they have a very special weapon.
If Saint Jude were the Faces, then Earthprayer are a supercharged Rolling Stones crossed with early Deep Purple, and as if to underline the notion they include a blistering updated take on 2000 Light Years From Home in the set.
Like Saint Jude, Earthprayer have stripped back years of overproduction to come up with an album packed with powerful, back to basics rock - soulful vocals, killer guitar riffs and a driving rhythm section.
OK it may not be an original concept, but the band - Ian Montlake (guitars), Geoff Halden (bass) and Pete Cowan (drums) - sound fresh and vital, and Heidi's raw Joplin style vocals are the cherry on the top. And like Saint Jude, they're the sort of shot in the arm that rock needs.
Recorded in only nine days (hence the title) the album has a wonderfully loose, fresh and edgy feel that oozes attitude and, dare we say it, soul.
****
Review by Pete Whalley
Interview by David Randall for Get Ready to ROCK! Radio
(First broadcast 09.10.11)
---