DOUG COWEN & THE BASICS Rockin' Town Nineteen/82 Records (2011)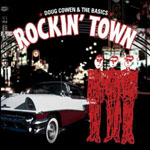 Michigan's Doug Cowen & The Basics is the kind of band that would turn a routine night at your local rock club into something a little bit special. And on the evidence of 'Rockin Town' they are only a good producer and a couple of songs away from establishing their own melodic pop rock niche, full of jangling guitars, occasional searing guitar breaks, cool harmony singing and an ever present sense of melody.
In fact 'Rockin' Town' is a pretty good record with a good time feel but one in search of the kind of edge and bluster that gave the likes of Tom Petty crossover appeal. The problem Doug has is that he doesn't quite want to ditch his pop rock roots on 14 songs that occasionally come close to hitting bull's-eye but on occasions settle for the predictable rather than the excellent. In fact this is album that flatters to deceive in as much as it suggests possibilities that the band are only happy to occasionally pursue, before retrenching behind a satisfying but unessential mix of rock boogie and pop rock. Its classic case of their glass being half empty and half full, and they don't help their cause by confusing the listener's expectations with the well crafted Beach Boys influenced 'Keep On Rockin'. It's the kind of song that stands in sharp contrast with their rockier efforts.
From the opening expansive chorus of 'While You're Young' and the guitar rush of the title track to the retro twang of 'Pathetic Neighbour' and the guitar rumble and big groove of 'Do Ya Love Me' the band appears to be trying to be all things to all people. Near the half way point on 'Numb' they embrace a big sounding Diesel Park West meets U2 approach, something they replicate on the broad sweep of 'Spring Time Again', with its Byrds feel on a song that stops all too quickly.
And if 'Numb' is a high point then the melodic 'This Place That Has Me Now' is a shade more contemporary with a clever double guitar and vocal melody line that sweeps along all before it. It's with songs like this that you feel the band really have chance of stepping up to the plate and this is compounded by the following U2 flavoured 'Sustain', with its big drum sound, compelling hook and more soaring guitars for good measure.
'Rockin Town' is an apt name for a band that positively leans into their grooves, who explore some impressive solos and works their way towards booming choruses. All that's missing is a rockier edge to help bring home the bacon.
****
Review by Pete Feenstra
---
| | |
| --- | --- |
| | Print this page in printer-friendly format |
| | |