DEF LEPPARD Mirrorball Frontiers (2011)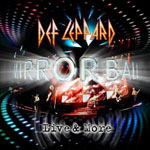 Say what you like about Def Leppard but there is no denying what an awesome live act the band have been for the last 34 years- yes, 34 years and the band still sound great live. Now, for the first time in their career the band is releasing a live album, although the Hysteria tour did spawn the superb live 'In The Round, In Your Face' video. 'Mirrorball' features 21 live tracks recorded on the 'Live From The Sparkle Lounge' tour, the set list is packed with hit after hit and anyone who managed to see the band on this tour will no doubt agree that the album captures the band's live show excellently.
The band sound easily as good as they did 20 years ago and it's very hard to single out the highlights on 'Mirrorball' as the whole album sounds great. With newer material such as 'C'Mon, C'Mon', 'Nine Lives' and 'Bad Actress' sitting well next to established songs such as 'Photograph', 'Pour Some Sugar On Me', 'Let's Get Rocked' and 'Rocket'. There is a stunning version of the instrumental 'Switch 625', 'Bringin' On The Heartbreak' starts acoustically before giving way to the full band, whilst 'Too Late For Love' and 'Animal' remind you of why you love Def Leppard in the first place.
Then we have the addition of 3 new studio recordings- the big anthemic Joe Elliott penned 'Undefeated', Phil Collen's 'It's All About Believin'' and the Queen like balladry of Rick Savage's 'Kings Of The World'.
'Mirrorball' is a great live album and a great document to the staying power of one of world's greatest rock bands. But for me, as a long time fan of the band, there is just one thing missing- Steve Clark- although this doesn't detract from the album at all, or indeed the current Def Leppard line-up. Joe Elliott has said that not a day goes by that the band doesn't think of him and I'm sure fans feel the same when they see or hear the band live.
*****
Review by Nikk Gunns
---
| | |
| --- | --- |
| | Print this page in printer-friendly format |
| | |