THE COLOURPHONICS The Colourphonics (2011)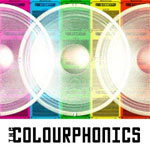 Australian band The Colourphonics are a curious band. They are one part serious prog rockers with a jazzy edge and one part a pop band with songs straining to be heard. The result is an enjoyable but uneven album full of sparkling solos, two hemmed in vocalists and a horn section that blazes its way through some smart arrangements. Unfortunately the three horns don't always sound like an integral part of the whole.
On 'Found' - the second part of the 'Sunset' trilogy for example - they actually lead the piece at the outset but somehow manage to get sidelined on a number that stops and starts and twists and turns before eventually returning to its musical source for a sense of resolution.
'Blossom Haze' (Sunset 111') is far better, being a jazz rock groove that is eloquently nailed down by drummer Steve Deer, while a sax blazes away over the top. This is one of the rare moments when the band shows enough restraint to groove along rather than trying to outplay each other.
The album opens with a blazing crescendo on 'Looking Back' and works up a disguised funky groove full of keyboard arpeggios and the twin vocal attack of Tony Minniecon and Miranda Maz and a busy buzz guitar. There's lots going on musically but the contrasting vocal lines give the song a welcome sense of direction.
Miranda Maz also tried to reign in the band a little on the Sade influenced 'The Good Within You', which is a decent stab at soulful pop but finishes with a perfunctory ending. She again evokes Sade on the much better 'My Daydream', which has real commercial possibilities, and the closing dreamy 'Underwater' on which the vocals sit more comfortably on top of a series of keyboard noodles and more buzz guitar. Unlike too many other tracks here, there's a sense of balance and primacy of the voice that gives the band some welcome space.
'The Colourphonics' is a frustrating album that only reveals its true creative source in short bursts. 'This is Not An Exit' is a jazz rock groove with just a touch too much clutter as Corey Taylor's guitar initially struggles to be heard above a grand ascending horn line before he finally takes centre stage with a cascade of notes in a wonderful solo. Weirdly enough, I can't find any reference to a keyboard player, but whoever it is plays a fine drifting solo on this track over Steve Deer's crisp percussive drive and his later thunderous staccato drum pattern
The Colourphonics are a band with real potential that comprises inventive progressions and some lovely instrumental landscapes, but perhaps its time for them to work through the material with some solid gigging before returning to the studio.
****
Review by Pete Feenstra
---
| | |
| --- | --- |
| | Print this page in printer-friendly format |
| | |