CINQUI A Long Way To Go (2011)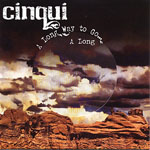 It may be a long way form Northamptonshire to Slab Fork, West Virginia - the birthplace of Bill Withers - but when it comes to nailing down the essence of sweet soul music, 3000 miles of geography fails to stand in the way of British band Cinqui (pronounced 'Sin-Key'), who have cut a Bill Withers inspired soul album of the year.
'A Long Way To Go' is the kind of lovingly crafted album that restores your faith in the power of music to survive a formulaic onslaught and come up with something original. That's not to say 'A Long Way To Go' is ground breaking in any other sense than it's a refreshing context for the subtle art of vocalist Ian Sinclair's emotive soulful phrasing and vocal swoops. For here is a singer who straddles the thin dividing line between emotive singing and gentle vocal pyrotechnics.
Sinclair triumphs simply because his voice drips with emotion on succession of strong songs that are carried by the kind of lyrical substance that allows him to focus his talents on bringing heart felt emotion to the material. Look no further than the beautifully conceived 'Try Smiling', which derives its weighty presence from a beautifully delivered vocal on which every little over deliberation and pause speaks volumes; 'Well there's a house on the south side, so say the wrong side of town, it's a red brick affair and my heart lived there, but my love is nowhere to be found'. Ian also delivers the hook, 'try smiling with a broken heart' as if he really has got a broken heart. Guitarist Stud Dixon engages him in a guitar/voice 'conversation' before soloing impressively on the fade out. It doesn't get much better than this.
In fact Cinqui rediscover the power of the soulful voice to engage the listener and tickle the heartstrings in a way Dobie Gray and Bill Withers did all those years ago. As a result this is an album with obvious crossover appeal as well as being of particular interest to fans of say Eric Bibb, Keb Mo and Hans Theessink in his more gospel tinged moments.
'A Long Way To Go' drops you into a world of slowly evolving, soulful funky grooves that are shaped by Ian's expressive vocal style and the band's ability to make the best use of the dynamics, from the pregnant pauses to subtle keyboard and guitar breaks.
The title track is a slight departure as Stuart Dixon's slide led work references Lowell George on a number that has a laid back reggae feel. 'I'm A Fool' zones into a brush stroked/ electric piano intro, a subtle groove and some beautiful vocal phrasing on a song that sounds one part CSN 'Love The One Your With' and one part Bill Withers. Guitarist Stuart Dixon switches to acoustic on 'My Lovers Arms' as Ian comes close to Dobie Gray on another undulating groove with gospel bv's.
Better still is the slight bossa feel of the radio friendly 'Try Smiling'. Once again Ian's phrasing is supreme right down to the pause in delivering the line 'nowhere to be found' as Stuart add some incisive electric guitar lines. Curiously Ian sounds like Cliff Richard on this track, but even the born again Sir Cliff would be hard pushed to deliver the kind of soul and feel that Ian brings to the song.
And it is the latter two elements that make this album special as each song contains a mini narrative which Ian brings to life in his own inimitable way. This is especially on the reflective 'Righteous Man' on which he adds spoken word verse to bring that extra bit of feel backed by gospel style bv's. Then there's the magnificent 'Should I' which has an interesting guitar led intro and a dramatic chorus as Ian produces his best vocal performance of the album on a love song that aches with longing and is delivered with the coolest band dynamic and a superb arrangement by Stuart Dixon. 'Couldn't Love You More' picks up the pace a little with some flighty harp from Will Wilde, but this is an album that operates in the understated world of first and second gear allowing Ian to do his thing and the band to add the necessary hues.
And if Cinqui veer a little too closely to an MOR feel on 'There's Another Way' on a synth swept duet with Anne-Marie Johnson, you can just see the pay off with some potential late night air play. The lyrical sentiments of 'You Saved Me' also just about save a ponderous outing on which the bv's are a tad overbearing but the telegraphed double entendres of the funky I'm a Train' add a welcome touch of humour. But this is a small criticism of a beautifully crafted on which a combination of Ian's soul dripping voice and a succession of deep band grooves envelope you.
And hey, if you don't get the essential connection of this album it probably means you are not paying attention, because when it comes to soulful grooves, tightly wrapped playing and emotive singing Cinqui are the top of the tree.
*****
Review by Pete Feenstra
---
| | |
| --- | --- |
| | Print this page in printer-friendly format |
| | |