CHRIS CORNEY Airways Mansions White Wail WWR012 (2011)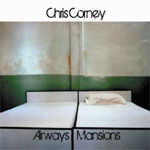 From the fleeting Americana influences to the heavily layered production sound that fans of Simply Minds and The Blue Nile would surely recognise, Chris Corney's 'Airway Mansions' has much going for it. In many respects it is the lush production that is the making of the album but also provides it with its major drawback.
Chris has the kind of seamless voice that fits effortlessly into several dreamy outings, but it's a vocal range that he rarely extends enough The end result is that the 10 songs often sound too similar with only some subtle instrumental colour, effective quiet/loud dynamics and jangling guitar work providing much needed variety. The overbearing production ends up almost suffocating a handful of songs that are essentially strong enough to stand on their own.
Chris is equally adept as a singer-songwriter as he is a producer, but at times he hovers between the two, and the result is that songs like 'The Desperation Show' sound solid enough but come with an added wall of sound.
The album leads off with the impressive single 'America' on which the nicely slurred vocals owe much to Tom Petty, although the lyrics are strong enough to give Chris his own identity. A place on the Radio 2 play list surely awaits this very commercial song full of sweeping harmonies and jangling guitars.
The stop-time chorus and lush production of 'These Bones' acts as a suitable conduit to an album full of well crafted songs that are given a collective heady grandeur by a meticulous production that knows how to nuance dynamics, emphasize effective instrumental breaks and always places the harmonies in the front of the mix
So far so good and songs like 'Nothing At All' suggest a crossover artist in the making - think Tom Petty meets Roger McGuin (The Byrds) - while on the following 'In Control' he further references The Byrds signature 6 string guitar sound before a close to the mic whispered vocal and a lush production puts us in mind Jim Kerr's solo work.
It's a comparison that is further evidenced by the deft string accompaniment and Simple Minds style guitar motif of 'Bella'. And as if to round off the 80's feel, there's echoes of The Fixx on the chiming guitars and keyboards parts of 'Without Love' which benefits from a chanted chorus.
Aside from the opening single, Chris's own style is best represented by the stripped down rootsy approach of 'Little Marrakesh' which has more of a Americana feel and impresses with its word play; 'I stand and shiver as I wait for you to call, I shouldn't climb this high for fear that I may fall', delivered with some lovely intuitive phrasing on one of his best outings.
There's some welcome bluster on the dynamic 'Wedding Day' which stretches to a brief guitar break, on something of a departure for an album that is the sum of its intricately produced parts. 'Airways Mansions' finishes with more processed jangling guitars, a powerful staccato drum track and sweeping vocals that ascend into an uplifting chorus. The powerful after taste leaves the listener wanting more.
It's the perfect top and tail to an album that has plenty of good songs full of lyrical integrity and has plenty of production know-how, but which on balance probably over eggs the cake slightly. For somewhere in the middle of this grand production there is a singer-songwriter trying to get out.
****
Review by Pete Feenstra
---
| | |
| --- | --- |
| | Print this page in printer-friendly format |
| | |