CENTRAL PARK Reflected Rockville (2011)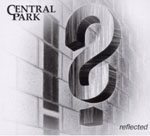 Central Park's 'Reflected' is a curious album full of obvious Prog leanings and some apocalyptic lyrics from an obviously talented German band that tries hard to bring musical frisson to a rather laborious core trilogy suite
Part of the problem with the whole album, other than the over earnest approach is that there seems to be two disparate elements at work The band is at its best when leaning into several keyboard and guitar breaks, but all too often the melodies and underlying structures are befuddled by dull arrangements, cumbersome conceptualisation and Jannine Pusch's voice. Quite simply the soprano can't match what she has in terms of her natural range with the gift of phrasing and the result is an inconstant album that smoulders but all too rarely explodes into life.
'Reflected' opens with the kind of Proggy symphonic metal pretensions that rarely realise their potential. . The best moments come on 'Free Fall' when the heavy riffs, contrasting delicate rhythms and vocals evoke Amon Duul while on 'White Princess' the vaguely eastern sounding rhythmic intro gives way to glimpses of ELP as keyboard player Jochen Scheffter explores a heavy organ feel. But its also apparent that Jannine's voice is not readily suited to the subject matter. It may be a great idea to put together a top Prog Rock band with an operatic singer but it's not one that necessarily always immediately works. Too often her vocals sound strained. It's not a question of her range, but rather in struggling to bring meaningful expression to the lyrics at hand. On 'Another Part' she simply lacks gravitas and as such the lyrical meaning drifts away. Somewhere in between the opening keyboard figure and impressive closing guitar solo, there a melody struggling to get out and the end result is that there's not enough Prog and too little AOR to satisfy either palate.
And so to the core trilogy 'Vision of Cassandra' which takes us on a journey of apparent doom, destruction and de facto hell on 'Winter Storm' before a belated sense of hope and resolution on 'Awakening'..
Aside from the musical dichotomy at play, the band struggle lyrically, unless you consider lines like 'concrete grows like cancer, floating inside every hole' to be poetic. Then there's the use of voice collages which although not a bad idea sounds frankly contrived, while the mid-number cacophony isn't so much the straining of musical tensions as simply a band making some horrible noises in the studio.
But in fairness, 'Reflected' does have some enjoyable hard rock moments from a seasoned band who are simply hemmed in by the weight of their own conceptual making.
'Doom' for example, turns out to be an aptly titled song, as Pusch struggles to bring gravitas to the lyrics with her overwrought style. In contrast, 'Awaking', the end piece of the suite, is much better with more relaxed vocal sweeps that explore her considerable range as the band finally jam and stretch out..
Central Park save their best for last as 'Path of Mercy' builds on a keyboard groove and uses a significant pause, broken only by tinkling piano notes before another all too brief organ break. The title of the closing track 'The Last Tear' is gently evoked by a combination of violin, piano and voice and suggests the band might been better served by building on the strengths of their muscular riffs, contrasting delicate rhythms and welcome solos rather than struggling with their weighty themes and concepts
'Reflected' is simply too cluttered for a Prog Rock album and the centre piece, 'Vision of Cassandra', doesn't allow the band to breathe.
File under of general interest to Prog fans but in dire need of a detached producer.
***
Review by Pete Feenstra
---
| | |
| --- | --- |
| | Print this page in printer-friendly format |
| | |