BRUCE COCKBURN Small Source Of Comfort (2011)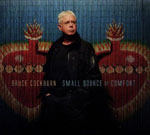 Not many artists can still sound fresh 31 albums into their career. In fact not many get even close to that volume of creative output. And not many artists would set out with the intention of producing an album full of jackhammers, distorted guitars and noise, but end up delivering a set of folkier acoustic pieces. Not, of course, unless you're from Ontario, Canada (it must be something in the water, because that's where Cockburn's contemporary Neil Young hails from).
Inspired by recent trips to Afghanistan, ponderings on the re-incarnation of Richard Nixon, road trips and unreturned phone calls, this collection of 14 new tracks, including 5 instrumentals, while primarily acoustic is smattered with elements of folk, blues, jazz and rock.
As both a songwriter and guitarist Cockburn is widely considered something of a virtuoso, and he's not a man content to rest on his laurels ... no, he likes to take risks and explore life to the full. And that's fully reflected in Small Source Of Comfort - an album that needs to be savoured and explored over many repeated listens.
You won't find instant gratification here, but craft, superb playing and production, that oozes class from every groove. It's a late night album to be played on a hi-fi and preferably after dark with the lights dimmed, and a large glass of single malt.
Produced by long-time associate Colin Linden, who also plays guitar, the album features Anabelle Chvostek - a Montreal based singer songwriter and former Wailin' Jenny, Brooklyn based violinist Jenny Scheinman, as well as his regular rhythm section bassist Jon Dymond and drummer Gary Craig, this is a serious reflection of the world through Bruce Cockburn's eyes.
***½
Review by Pete Whalley
---
| | |
| --- | --- |
| | Print this page in printer-friendly format |
| | |