THE BLUEMASTERS featuring MICKEY THOMAS Hypertension HYP11277 (2011)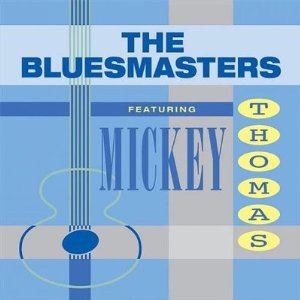 You could be forgiven for approaching The Bluesmasters featuring for Starship vocalist Mickey Thomas with some scepticism. After all, this entire project has the feel of a bunch of crinkly old rockers in search of a song let alone a genre. And while they do at times play the blues with some panache - if not feel - the choice of material is simply uninspired, if not redundant. Indeed the best two songs comes from outside of the blues remit. Thomas reprises his 70's his vocal on Elvin Bishop's 'Fooled Around And Fell In Love' and stars on a scorching vocal on the closing Tim Tucker penned 'Long Time'. The latter is so uplifting and essential that is makes you wonder why they ever bothered with the blues.
And while the liner notes make a cogent attempt to guide us through a choice of pre war country blues, Kansas City shuffles, Chicago Blues, R&B and 'Classic rock', there's simply no getting away from the lack of an imaginative plan. Better to have called it 'Micky's favourites', rather than hide behind the pretentious claims of some ill defined blues roots, let alone calling the band The Bluesmasters.
But The Bluesmasters are here to play the blues and they technically play it rather well. And in Thomas they have a top class vocalist whose falsetto is still as spine tingling as his phrasing is ebullient and his 'in the moment' hollering almost manages to override some lame choices of material.
But the real question about this album is does the world really need another version of 'Rock Me Baby', 'Sick & Tired', 'Walkin Blues', or 'Over Yonders Wall'? People, the answer is no!
Thomas does makes a good fist of 'I'd Rather Go Blind' but then turns it into an exercise of vocal dexterity over emotional engagement.. Sure the band bring on Magic Slim to gnarl his way through his side of the duet with Micky on 'Can't Get No Grindin' and he's marginally better on the later Albert Collins duet 'Get Your Business Straight', on which Micky soars with an exceptional vibrato. But for the most part the problem with this album is that it simply is an exercise in going through the motions.
Brit blues boomer Aynsley Dunbar and Blue Oyster Cult bassist Danny Miranda nail the rhythm tracks down with professional aplomb and guitarist Tim Tucker burns when he has to while harp player Doug Lynn is busy throughout.
The best moments come on the slow blues '3rd Degree', on which the band bring the song way down and try to lean into a smouldering blues, but its too much of a tentative effort. The solos are crisp, concise and to the point and Tucker sounds more like Albert Collins on this track than on the following Collins penned outing. Thomas is of course the star turn, but then he's got such and explosive vocals style that he could make reciting the phone directory exciting. But it isn't really the blues. And as such you do wonder just who will buy this album.
The question isn't so much can white men sing the blues as can rock players get away with trying to be blues men? On balance, this album suggests they can, but don't ask them to write any of their own songs to prove it.
***
Review by Pete Feenstra
---
| | |
| --- | --- |
| | Print this page in printer-friendly format |
| | |