THE BLUES BAND Few Short Lines Repertoire (2012)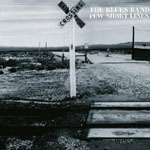 Give or take a few compilations, 'Few Short Lines' is The Blues Band's 20th album and retains the tried and tested formula of a mix of bluesy covers and originals that has served them so well down the years. And while 'Few Short Lines' contains few surprises, save for a couple of unexpected guests - Southside Johnny and Al Cooper among them - the album is much like the band itself, a triumph of the sum of its parts.
Every member plays an integral role in making sure the material is rigorously played and the arrangements fulfil their potential, though given the high standard of combined musical excellence that is no surprise.
If there is a slight reservation it is probably the same lack of a few killer songs that have held the band back from breaking out of their blues niche. But given their name perhaps that was never the objective?
The smooth but crisp production ensures an undulating ebb and flow, with well thought out sequencing that focuses our attention on the best individual efforts in between a handful of duets and guest tracks. As a result 'Few Short Lines' finds its equilibrium by balancing the band's natural vibrancy and the sharp sonic quality of the mastering with a set of songs that for the most part fully represents the band's brand name.
And while Dave Kelly and Paul Jones inevitably take centre stage, it's the Tom McGuinness songs that impress most, while Gary Fletcher's three contributions suggest an independent creative spirit with a possible extra curricular solo career.
But for the moment The Blues Band do what they do best, offering a contemporary take on the roots of the blues and related rhythm and blues music in its widest configuration. And it's that broad sweep and their high calibre musicianship that makes for an enduring crossover appeal.
Dave Kelly rekindles his affection for down-home blues with the opening slide led Mississippi Fred McDowell's title track, which is interwoven with Paul Jones's lyrical harp playing and anchored by Rob Townsend brushed strokes. It's an archetypal Kelly style track that mixes understated technique and mellifluous runs with the sumptuous tone and real feel.
Tom McGuinness's mariner's narrative, 'My Brother Was A Sailor', is brought to life by Paul Jones' heartfelt vocals and guest Mike Sanchez's piano lines, before PJ's very best vocal performance on a duet with Linda Lewis on another McGuinness song, the impressively sultry 'Sway With Me'. The smouldering duet is punctuated by a contrasting gentle slide guitar figure and brusque wah wah with additional harp before Linda adds a dynamic finish as she effortlessly reaches for an incredibly high note on the outro.
Southside Johnny (Lyon) delivers a real gruff and gritty guest vocal on Gary Fletcher's New Orleans shuffle beat 'You Are True', complete with subtle tempo changes, while Tom McGuinness shows he's probably a better song writer than vocalist on 'Living With The Blues'. It's the kind of song that teeters on the brink of cocktail blues and might have been better served by Gary Fletcher's whispered phrasing. That said the guitar and harp breaks are impeccable.
As with all good albums, 'Few Short Lines' has a linear feel due to the changes in mood, feel and tempo with Dave Kelly and Maggie Bell clearly enjoying their vocal liaison on Kim Wilson's 'I Believe I'm In Love With You', which works well enough but is something of an obvious cover.
The same could be said of Dave's slide led cover of 'Statesboro Blues', while Rockin Sidney's 'My Toot Toot' - though again well played - sounds like one cover too many. Gary Fletcher's close to the mic vocals on his self penned 'That's My Way' is much more interesting and although strongly evoking Mose Allison, does have the benefit of being markedly different from what's gone before.
The album moves towards it close with 'The Road', a Paul Jones penned, up tempo funky groove on which he explores the frustrations and ironies of part of his trade. He also manages to transform one of the worst couplets into a wry finish with a twist; 'Every morning find me moaning about the evils of the road; But Then I realised I was lying, my nose had grown Pinocchio'd. You see I really don't dislike it, it's my alternative abode'.
Jones and Kelly then combine well on a vocal duet to bring a sense of urgency to Gary Fetcher's 'It Take Love', before a rip roaring Southside Johnny harp intro leads us into Tom McGuinness's closing 'You Can Dance To The Blues'. This song could easily have provided the title of the album being an apt summary of the band's music and approach, though McGuinness's humorous lyrics possibly express it best;
'Howlin Wolf dancing on the table, what would the blues police have said; T-Bone Walker' doing the splits and playing the guitar behind his head'
****
Review by Pete Feenstra
---
| | |
| --- | --- |
| | Print this page in printer-friendly format |
| | |