THE BLUE VAN Love Shot Iceberg Records (2011)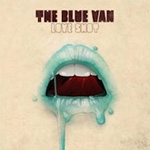 Danish rockers The Blue Van obviously have a wry sense of humour to go with their potent musical pop/rock crossover style. As their web site explains they take their name from 'a van that collected mentally ill people in Denmark'. Musically, they add the power of 80's rock and metal and fuse it to a core rock-blues undertow (think early Purple). But they are cute enough to work clever rhyming lyrics, good hooks and a dash of electro pop into the mix for good measure.
With several dramatic arrangements, an occasional use of a Phil Spector wall of sound, judcious stops and starts, all topped by vocalist Steffen Westmark's grasp of the dramatic, they add an essential contemporary gloss to a undisguised retro sound.
Indeed with the help of the high-energy big production that powers the album from the opening tightly wrapped rock & roll single 'Mama's Boy' through to the Proggy tinged feel of the closing, 'You Live, You Learn, You Die', you could argue that The Blue Van successfully transpose the core musical values of the early 70's into 2011.
And yet, The Blue Van is a band very much of the moment. They've enjoyed success in the States and are sweeping across Europe in the same way that their music envelops the listener like a wave. They have also contributed to high profile TV soundtracks and enjoyed link ups with state of the art computer technology. And yet the strengths of their songs and requisite breathless production ensures an exciting end product that places them slightly to the left of the majority of other bands with an equal amount of bluster.
'Love Shot' is indeed an impressive piece of work, that shifts effortlessly from rock to pop, via dramatic ballads before eventually letting rip with Soren Christensen's good old fashioned Hammond on some hard driven rock that wouldn't disappoint Heep and Purple fans.
Perhaps their biggest talent is that they manage to deliver a coherent album born of real diversity. 'Love Shot' is not so much a meandering exposition of rock's antecedents as powerful adventurous music that thinks nothing of veering into electro pop on 'Run To The Sun' or regurgitating The B52's on the title track, before once again leaning into some full blown organ led, big production rock on the excellent 'Loser Takes It All'.
In between the rockers there's the closest they get to restraint, with two deft string arrangements courtesy of co-producer Mark Willis, on 'Woman of the Wrong Kind' and 'Wait And See'. By comparison the pile driving 'Hole in the Ground' shows the band at full tilt, complete with an outrageous stop-time pregnant pause before a blazing outro.
'Love Shot' is actually the band's fourth album and is full of musical maturity and burning energy, while the swagger and sense of urgency of 'Fame & Glory' is neatly ecapsulted in Steffen Westmark's cleverely layered vocals. Indeed the passionate way he attacks the top line on 'Draw The Line' suggests there's so much more good stuff to come from a band on the up escalator.
****
Review by Pete Feenstra
---
| | |
| --- | --- |
| | Print this page in printer-friendly format |
| | |