BLACKFIELD Welcome To My DNA KScope (2011)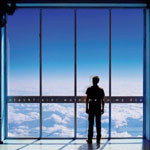 'Welcome to my DNA' is the third offering by Porcupine Tree's Steven Wilson and Israeli artist, Aviv Geffen. Porcupine Tree fans will be on familiar ground with Wilson's familiar acoustic rhythm aka 'Trains' in full flow on the opening track, 'Glass Houses' which progresses into a curious Byrds like harmony.
But it's the next song, 'Dissolving With the Night' on my track shifter which is appealing by way of a piano hook that builds to an orchestral crescendo. 'Lamb Lies Down on Broadway' springs to mind especially with the references to beauty being misinterpreted.
'Blood' has a Middle Eastern tendency at its root. But its overlying harmony is an intriguing contrast and the intermittent riffing comes as a pleasant surprise.
Melancholy is a key tone to the album and yet there are optimistic moments which accompany the shifts from dark to light. It is not an album of predictable angst. For instance, 'On the Plane' contains some pleasant uplifting guitar passages which complement the deeply personal lyrical content.
My favourite track is 'Oxygen' which, and I hope Steven Wilson will forgive me, reminds me of Trevor Horn at his best. Sleek production with an identifiable theme, this provides the whole work with a reprise.
And yet my mouse always quivered towards the title track, 'DNA.' 'DNA we all got expiry dates' might seem a depressing message and but musicians of the calibre of Geffen and Wilson are able to move us skilfully with harmonies that are haunting and ultimately listenable.
Unlike many 'concept albums' the listener is not divorced from the actual music by the artist ramming some psychological hang up down our throats. The messages and the music are holistic. For all its talk of how we are made and our inevitable passing, 'Welcome to My DNA' is a melodic triumph first and foremost.
*****
Review by Keith Thompson
Keith Thompson presents 'Rockwaves', every Sunday at 21:00GMT on Get Ready to ROCK! Radio
---
| | |
| --- | --- |
| | Print this page in printer-friendly format |
| | |