BLACK 'N' BLUE Hell Yeah! Frontiers (2011)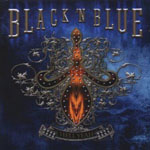 It was 2003 when a reformed Black 'N' Blue started recording 'Hell Yeah!', almost 15 years after the original line up called it a day, but this was halted when vocalist Jaime St James left to front Warrant and it wasn't until 2008 that the band would complete the album. There was then a matter of legal issues to be resolved with their previous record label before the band could release the album (the band released 4 albums on Geffen between 1984 and 1987).
Produced by guitarist Jef 'Woop' Warner and featuring almost the complete original line-up, lead guitarist Thommy Thayer is currently taking the place of Ace Frehley in a rejuvenated KISS and his shoes have been filled by Shawn Sonnenschein, 'Hell Yeah!' finds a band that aren't ashamed to sound exactly as they did when they left off in 1989 - and how unusual is that these days?
Opening track 'Monkey' sets the pace nicely as the album blends it's sleazy attitude ('Candy') with some big rock tracks ('Hail, Hail') and even the odd short but sweet instrumental or two ('Trippin' 45').
The album's title track has echoes of KISS whilst 'Candy' has a Roxx Gang meets Aerosmith meets Van Halen feel to it and 'World Goes Round' has a gentle, jangly, modern hippy vibe to it.
Other highlights include 'Falling Down', 'Fools Bleed' which has a slow burning opening that soon goes full tilt, and 'So Long' which is right out of Sunset Strip circa 1985. Unfortunately there are a couple of repetitive tracks such as 'Angry Drunk Son of A Bitch' but that doesn't tend to bring the album down, however, I could have done without the filler tracks like 'Jaime's Got The Beer' and the very strange bonus 'A Tribute To Hawking' featuring vocals in the style of, wait for it....., Steven Hawking.
On the whole though 'Full Tilt!' is a solid return to form, and should see the band do well on the nostalgia trail.
****
Review by Nikk Gunns
---
| | |
| --- | --- |
| | Print this page in printer-friendly format |
| | |