BITCHES SIN The Rapture Bitches Sin Records (2011)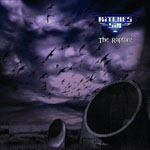 Former NWOBHM band Bitches Sin, after two unsuccessful albums back in the 1980's, seem to have had a new lease of life since reforming a few years back, with guitarist Ian Toomey the only survivor of the original band.
For their second full-length album, the new version of the band have even enlisted the legendary Chris Tsangarides, whose name graced a whole series of metal albums in my formative musical years, not just as producer but a second guitarist.
After a disappointing start in Don't Let Go, with some rather shouty vocals from singer David Mills, a surprise metal cover of Simon and Garfunkel's Sound of Silence is the first sign that this is far from a run of the mill album. The songs are well put together and refreshingly devoid of musical or lyrical cliché.
The ambitious instrumentation of Never Forget almost had the feel of Rising-era Rainbow, while the title track sees some rapid fretwork from Ian rise above a dense, dark rhythm as the song progresses.
The default setting is slow and epic with Mills' vocals sounding suitably menacing, but there are a couple of more rapid fire numbers in Old School and You Want Paradise, the latter in the mould of some of Maiden's singles from the No Prayer and Fear of the Dark era. The acoustic No Regrets also ends the album on a mellower, though not far from wimpy, note.
Way better than expected and surprisingly diverse, it is clear much thought has gone into crafting this album and metal fans will find it a rewarding listen as a result.
***½
Review by Andy Nathan
---
| | |
| --- | --- |
| | Print this page in printer-friendly format |
| | |