BILL BOURNE & THE FREE RADIO BAND Bluesland Linus 270136 (2011)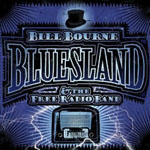 In an age when troubadours such as Seasick Steve can think about headlining The Albert Hall, you have to take stock and consider just what is going on out there in music land. Nothing wrong with the true blues traditions of Seasick Steve of course, who if nothing else has proved that a heartfelt dose of minimalism and a limited vocal can go along way. And if you follow that rootsy trajectory into a more of a rocky environment then The White Stripes come to mind and give you an idea as to the potential contemporary appeal of Canadian roots artists, Bill Bourne & The Free Radio Band.
Bourne has the kind of nasal voice that demands intuitive if not sophisticated phrasing to make the most of a monotone delivery. 'Bluesland' works well because he does exactly what is required, by varying both his vocal attack and paying due attention to a variety of arrangements and changes of tempo to make the most of his raw gut blues approach. He also dips into different blues genres referencing both folk and country music along the way while the spirit of Bob Dylan is never too far from the surface. This is particularly so as he tops and tails the album with 'Deep Dark Woods' - with its echoes of 'All Along The Watchtower' - and closes with a cover of Dylan's 'Maggie Farm'.
In between there's plenty to enjoy as Bill uses a number of repeated riffs and grooves that stay in the mind long after the song has finished. His rough hewn blues approach is nicely distilled on the guitar driven wig out of 'Forever Truly Bound', while his use of contrasting arrangements is nowhere better evidenced than on the unexpected cool of 'On The Sunny Side'. Its one of those songs where Bill ups his vocal performance over counter pointed guitar lines, with the acoustic in the front of the mix and the edgy electric mixed much further back.
By the time of the country tinged 'Columbus' Bill puts you in mind of John Hiatt's gnawing vocal style before some shimmering guitar lines, brushed strokes and a crisp percussive feel, colour another deft production job.
Topping it all is Bill's voice which at times veers form the highly expressive to the simply annoying, but hey if Dylan made a tidy living from gnarled phrasing and expressive groans, so can Bill.
He further adds a metallic clanking rhythm and a guttural drawl on 'Daily Bread' with lighter echoes of Tom Waits on a song that places the emphasis solely on an insistent rhythm and contrasting guitar lines over which he adds some exuberant scat singing.
Bill Bourne & The Free Radio Band is primarily a roots driven combo with a bluesy heart. Producer Cowboy Dan The Riverman has worked hard to capture Bill's essential style, which is not an easy task given his spontaneous excursions into anything from country to jazz. But 'Bluesland' has a familiar air about it and is played with such feel and confidence that you suspect any producer would find the artist a joy to work with. The end result is an album that proudly taps into the contemporary roots revival and does enough to scratch any blues lovers itch.
****
Review by Pete Feenstra
---
| | |
| --- | --- |
| | Print this page in printer-friendly format |
| | |