BIG COUNTRY Driving To Damascus (Expanded) Track Records (2011)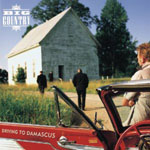 At a time when the successful shows featuring Mike Peters have put Big Country's legacy back into the spotlight, it is an opportune moment to be reminded, with this reissue of their final studio album, that the band continued to make quality music long after their top 40 days had passed.
Originally released in 1999, at the time I was underwhelmed by Driving to Damascus, but it swiftly became a footnote in history as Stuart Adamson's personal demons, that later culminated in his sad suicide, worsened and the band split up. But historical perspective has been kind to the album.
As the title track (the only one in the current live set) opens with trademark chiming celtic guitars, you might expect that the band were reaching back to retread past glories, but the opposite is the case as they forge a musical path far removed from their origins.
A couple of the songs, Dive in to Me and The President Slipped and Fell, complete with some stream of consciousness lyrics, continue in the straightforward hard rocking mould of 1990's albums like the Buffalos Skinners, but there are just as many mellow moments, such as See You, with strings prominent, and Fragile Thing, with its muted slide guitar and ethereal singing from Fairground Attraction's Eddie Reader.
By this stage, Stuart Adamson was based in Nashville and traditional American musical influences are far more to the fore: there is plenty of mandolin and steel guitar, and even his vocal accent sounds more American. His lyrics were no less eloquent though, with touches of humour, notably on break-up song Somebody Else with great lines like 'you can keep the wok, as it matches the satellite dish'.
The bonus disc contains a six track live in the studio session, recorded to assist radio promo in the States, of four songs from the album and old favourites Chance and Look Away. More interesting are the four songs that were on an expanded US version of the album entitled John Wayne's Dream, including the title track and some typical BC social commentary in Loserville.
However the crowning glory is I Get Hurt, a jangly piece of power pop reminiscent of the Byrds which must be the most blatantly commercial song Stuart Adamson ever wrote.
While most people would choose to mark Stuart Adamson's legacy by revisiting The Crossing, as indeed the band are to, on their 2012 tour, for an interesting alternative invest in this excellent value package and see a broader dimension to his songwriting in his later years.
****½
Review by Andy Nathan
---
| | |
| --- | --- |
| | Print this page in printer-friendly format |
| | |