BEN WATERS Boogie 4 Stu: A Tribute To Ian Stewart Eagle Records EAGCD 441 (2011)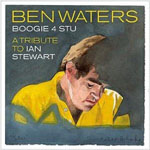 If as Muddy Waters proclaimed 'The Blues had a baby and they called it rock & roll', then boogie woogie was an essential conduit, being embraced by the swing era and lending its up tempo rhythms to what became rock & roll. In this context Ben Waters' 'Boogie 4 Stu' provides the perfect link between the core musical source and Ian Stewart the much loved proponent of the genre.
Stu would surely have loved Ben's opening cover of Albert Ammons 'Boogie Woogie Stomp' and his later solo version of 'Suitcase Blues', as well as the hot R&B of Amos Milburn's 'Rooming House Boogie'. As with the music so with the man, Stu was a much loved figure and as Ben explains in the liner notes, it was the collective feeling of goodwill towards the late unofficial 6th Stone that turned a solo album into an all star affair.
'Boogie 4 Stu' calls on appearances by The Rolling Stones, Jools Holland, PJ Harvey, (Ben's cousin), veteran vocalist (and Stu's best man) Hamish Maxwell as well as a posthumas Rocket 88 track featuring Stu from the Montreux Jazz Festival.
Both Ben's playing and his role as a musical catalyst make 'Boogie 4 Stu' an outright success. On the double handed title track with Jools Holland, both painists mirror Ian's appreciation of timing and the importance of tempo. Nothing is forced and there's a thrilling dynamic at play between the two pianos and the Rocket 88 horns, anchored by Dave Green's sumptuous bass and Charlie Watts's sprighty cymbal work.The same combination offers a beautifully judged and understated outing on 'Midnight Blues'.
Musically the album never strays too far from Stu's love of blues, boogie and old time R&B, while the closing Rocket 88 finale featuring the man himself is the perfect ending to a coherent musical journey.
'Boogie 4 Stu' works so well simply because of excellent choice of music and guests who make the most of their allocated pieces. Not everything immediately fits, but even Ronnie Wood's spiky guitar and Keith Richard's gnarled death rattle of a vocal on 'Worried Life Blues' add authenticity if not majesty to a heatfelt blues. Jools Holland also contributes Hammond to the track and adds a nasal vocal on Jimmy Yancey's 'Make Me A Pallet On Your Floor', with some authoritative phrasing making up for a pedestrian vocal.
Aside from Ben's playing, the highlights of the album come in the magnificent arrangement of the unforgiving 'Lonely Avenue', on which PJ Harvey adds a close to the mic double tracked vocal, couched in gospel tinged bv's and her own sax playing. Such is the originality of her arrangement that she gives the blues a contemporary voice and real presence. This startling effort is superbly juxtaposed by Mick Jagger's reading of Dylan's 'Watch The River Flow', on which he adds to his reputation of having a real feel for the blues. Ostensibly a track with all the orginal Stones members (save for Stu and Brian Jones) , it is in fact a triumph of technology over geography, as even Bill Wyman's bass parts were dubbed on at the end. But it all works brilliantly. Jagger doesn't hold back, adding some hard hitting phrasing and a mid-number banshee wail on a song on which doesn't so much tease as wring out ever last nuance of Dylan's lyrics. He belatedly adds some gritty harp over a pumping horn section on a swinging end-piece with a gradual fade.
Producer Glyn Johns glues everything together seamlessly, giving the album real sonic clarity and an integral flow that is exemplified on the following Jimmy Witherspoon style, Hamish Maxwell vocal on 'Roll 'Em Pete'. In many respects this track is the stylistic cornerstone of the album and one on which Ben plays his most dazzling runs.
From the choice of music and guests right through to Peter Blake's art work, which at first glance looks like cross between Stu and Ben, 'Boogie 4 Stu' is the perfect tribute to Ian Stewart. As Keith Richard once said of him; 'To me the real Stones sound was gone after Stu'. 'Boogie 4 Stu' is a superbly conceptualized and well played album by Ben Waters, who as Stu's natural successor excitingly brings to life both the man and his music. It's finally worth noting that the album was made to help raise money for the British Heart Foundation. Can't say fairer than that.
*****
Review by Pete Feenstra
---
| | |
| --- | --- |
| | Print this page in printer-friendly format |
| | |