Just witnessed your best live gig?.. send us a review!
B.B.King, Royal Albert Hall, London, 28 May 2011
Photos by Noel Buckley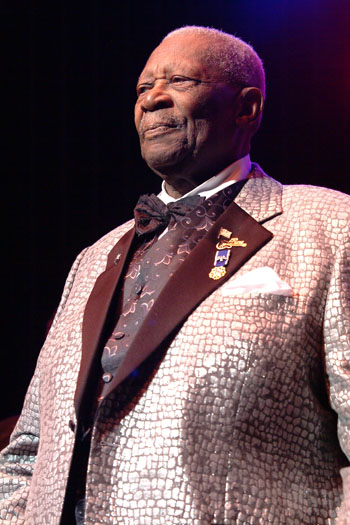 B.B. King's Royal Albert Hall show was a triumph of spectacle and occasion over substance. For tonight was all about celebrating the life and times of a living blues legend and his enduring blues heritage.
The spectacle came from both his band - a de facto mini orchestra with a magnificent horn section - and a roll call of guests that comprised Derek Trucks, Susan Tedeschi, Ronnie Wood, Slash and Mick Hucknall.
And the occasion was B.B.King holding court at The Albert Hall for possibly the last time in the manner of an experienced Las Vegas veteran using his spontaneous sense of humour to paper over the musical cracks.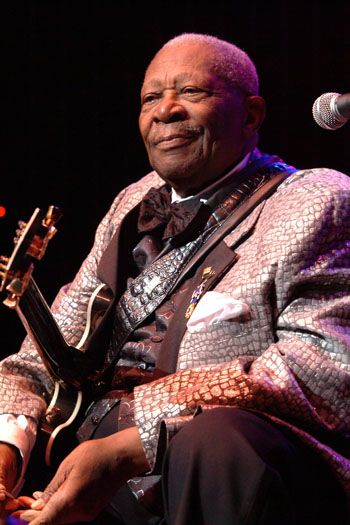 To experience a B.B. King show in 2011 is to be part of the kind of multi-cultural audience that would make market research companies salivate, and who were there to will on an aged blues icon who has swapped his best licks for his adopted role as a vivacious raconteur.
BB clearly knows his knows his audience well, asking them 'Are you ready to have a little fun with me tonight?' And from that moment on he never looked back.
But it's also an experience tinged with a little sadness in as much as he can only muster a few of his trademark vibratos, string bends and wholesome notes while his sweet toned vocal has been reduced to a growl.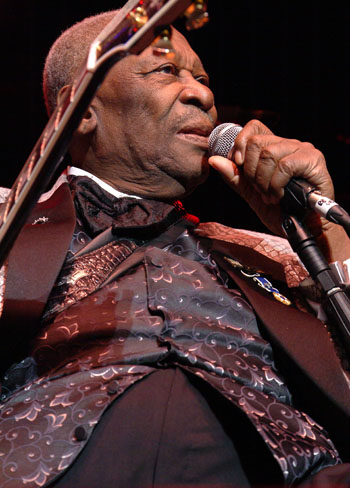 That said, his understanding of the importance of dynamics remains very acute, from the way he played a handful of telling notes at the end of a couple of horn parts to the timing of his story telling.
And with the sight of their octogenarian hero clearly enjoying himself the crowd were willing to sacrifice their collective musical memories for one more chance to catch a performer who is the personification of the blues.

If BB does have a sense of frustration about how time has robbed him of his powers, he's obviously traded any traces of resignation for the chance to tour more times, being unafraid to talk about his age and seemingly happy to simply carry the blues torch for newer generations.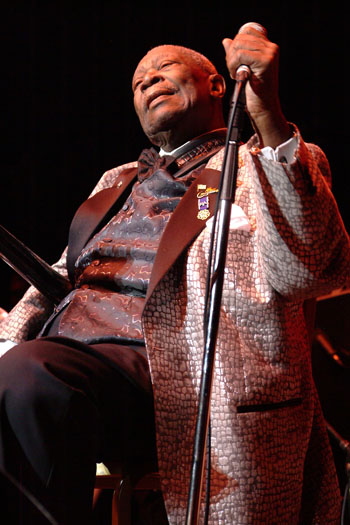 He compensated for his diminished abilities with a stream of consciousness approach full of vignettes, quips and band banter, all of which provide him with the crucial connection with his audience. And despite several apparently abandoned songs and perfunctory endings he carried his crowd with him to an uplifting conclusion.

At times there were still glimpses of the former self, most notably on way he phrased the blues love song 'I Need You So' and on the immortal line he lent to Paul Butterfield; 'I've got a good mind to give up living, and go shopping instead'.
The latter gentle slow blues also perfectly illustrated his less is more approach. But he struggled fitfully for his vibrato on a languid 'Key To the Highway' and it wasn't until the closing 'Guess Who' that I remember him singing the whole of a song, in this case with real feeing and spirit.
The promised guests were significant in as much as they represented BB's crossover connection with the rock, blues and commercial soul and they all took their place seated front porch style across the stage.
Derek Trucks' subtle slide playing on 'Rock Me' was the perfect foil for Tedeschi's vocals and nimble guitar lines, though by the time BB had encouraged them both to repeat their parts three times over, the song lost some of its momentum.
Slash, Ronnie Wood, Tedeschi and Trucks all took their turns to weave in and out of a meandering slow blues, leaving a somewhat underused Mick Hucknall to make the most of an all too rare opportunity to duet with BB.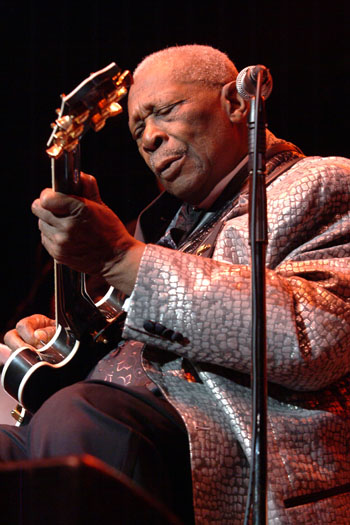 And as we headed towards a big finale with 'The Thrill Is Gone' and an emotive 'Guess Who' there was the unusual sight of a B.B. King audience rushing forward to the front of the stage. BB remained calm and led the 14 piece ensemble and fever pitch crowd into a gospel revival style 'When The Saints Go Marching In',

Here was living proof that blues can still work its magic on both performer and audience alike. It just takes a special catalyst like BB to ignite the spark.


Review by Pete Feenstra
Photos by Noel Buckley
---