ASA Beautiful Imperfection Dramatico Records (2011)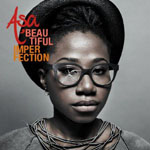 If you're not already acquainted with the young Bukola "Asa" Elemide, a Paris based French/Nigerian singer song writer, it's surely only a matter of time. Her second album Beautiful Imperfection, which has just had its UK release, has been feted by the likes of the broadsheets and Radio 2. And while that would normally signal 'caution' for rock fans, there's no questioning it's a very cultured release.
A smorgasbord of soul, reggae, jazz, rock and pop (with lyrics in English and Yoruba) would normally be something that would have Jools Holland spitting out platitudes and me reaching for the 'off' button. But the warmth of Asa's voice and the infectious strength of her songwriting will keep even the most hardened skeptic engaged.
Born in Paris, but brought up in Nigeria from the age of two, and now back in Paris, Beautiful Imperfection is a beautifully sparse, but at the same time lush, production that allows the songs, musicianship, and Asa's warm husky vocals to shine. It's an altogether more mature and accessible offering than her excellent 2009 eponymous debut.
It's piece of work that puts her firmly in Tracy Chapman territory, although Asa's work spans a much broader spectrum of styles from the wonderfully contagious reggae infused opener Why Can't We and up-tempo 1960's rooted lead single Be My Man, through jazzy blues (The Way I Feel), songs sung in her native tongue, to some magnificent balladry in particular the hauntingly beautiful Preacher Man, the reflective Baby Gone and quite magnificent piano/duduk set closer Questions.
An astonishingly accomplished piece of work that, with any justice, should establish Asa as a world star.
****½
Review by Pete Whalley
---
| | |
| --- | --- |
| | Print this page in printer-friendly format |
| | |