AMPLIFIER The Octopus (2011)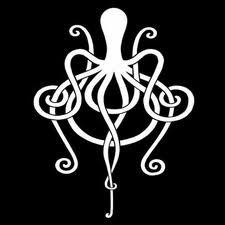 As I mentioned on my Rockwaves programme, concept albums will never go away. Would we want them to? Providing they tell a story well, they are just as valid as say mainstream musicals.
This latest offering from Amplifier is judged on the basis of its validity as a co-ordinated piece of work, as opposed to a bunch of hastily assembled songs about "thingy."
'The Octopus' is a two CD set with the first 500 copies released as a special edition. The album notes offer up such statements as:-
"The sum of all consequences is human entropy...."
Confused, I reverted back to the music itself. In doing so I appreciated a work about different levels of control that befall us. The concept of Utopia and the references to William Blake in 'The Sick Rose' were further clues as to the album's lofty aspirations.
The opener is 'The Runner' which reaches a scene setting crescendo but I still can't help drawing comparisons with the backing track on Floyd's 'On the Run.' I am sure the irony is intended.
Rather than Floyd though, the ebbs and flows are more reminiscent of Queensryche, Radiohead and the aforementioned Porkies. Crescendo junkies like Mogwai and Godspeed You Black Emperor fans could also be attracted to this assemblage.
'Golden Ratio' is my pick of the album and should provide Amplifier with a recognisable signature at live shows. Cleverly constructed, it straddles between ambient and the primeval reaches of rock.
The latter could be applied to its successor 'Fall of the Empire,' a dark riff introducing a disturbing theme about the ability of governments to destroy at the drop of the hat and be punished for their actions in the fullness of time.
"Who turned the children into soldiers?"
'Planet of Insects' was the point at which I could nod and say "I get it." It took me a while!
The ideology, the notion that we can be controlled from an institution up high or by something more sinister close by, is woven in deftly,. The acoustic led, 'Oscar Night' and the embedded soundscape of 'Embryo' sums up our X Factor enforced culture perfectly with its "engineering of consent." Amen to that.
Spellbinding, often broody, 'The Octopus' grabs you by the short and curlies and promptly whisks you into a Narnia of delightful temptations.
It is also a lesson in how to self-promote effectively while showing that record company parenting is not necessarily a signal of quality. In this sense, Amplifier should be held up a symbol of hope for 2011.
Buy it, but be prepared to leave it in your car CD player for a while to simmer.
*****
Review by Keith Thompson
Keith Thompson presents "Rockwaves" on Get Ready to ROCK! Radio, Sunday 21:00, Saturday 17:00
---
| | |
| --- | --- |
| | Print this page in printer-friendly format |
| | |